In the last 3 years, we made 3 cross country road trips, each lasting for one month. We also did many 3-7 days camping trips to various places. This article is a summary of our experiences.
On every camping trip, we use this checklist. This is our tried and tested camping list. These are the essential things you need for camping-
Tent with rainfly.
Tarpaulin.
Tent Stakes.
Rubber Mallet.
Sleeping Pad.
Sleeping Bag.
LED camping lantern.
Headlamps.
Battery for Lamps.
Firestarter Fluid.
Lighter.
Candles.
Camp Firewood.
Bath Shoes.
First Aid Kit.
Bug Repellent.
Toilet Tissue.
Hand sanitizer.
Food: Chocolate, chips, biscuits, bread, dried potato, avocado, canned tuna, instant noodles, pasta, onion, black paper, salt, cooking oil, egg, jam, cream cheese, MRE packets (meal ready to eat), pancake, maple syrup, garlic, sugar, instant coffee, fruits.
Cooking Pan, metal fork, metal spoon, knife, cutting board, plates.
Drinking-Water.
Refillable Water Bottles.
Petfood for our furry friends.
Propane stove.
Propane.
Phone Charger.
Offline Google Maps.
Water filtration system.
Music, Audiobooks.
Backpack.
Campground Reservation Printout.
Annual Park Pass.
Necessary clothing, including winter garment.
We also created a printable camping checklist pdf file. [Download].
Explanations:
Tent With Rainfly:
A tent with a rainfly is a must. Never make this mistake of not bringing your tent rainfly like the couple who did not in the Indiana Dunes State Park.
It was raining heavily. Me and my wife was enjoying the rain and cold weather. However, we needed a bathroom break. When we went to the bathroom, we found that one couple was sitting on the balcony of the bathroom with their tent and sleeping bags. After chatting with them, we came to know that they brought everything except a rainfly. They bought their tent from amazon, and it did not come with a rainfly. So, if your tent does not come with it, then please purchase one.
Always buy a bigger tent than required. For example, buy a 2 person tent for 1 person, buy 3 person tent for 2 people. Otherwise staying inside the tent would feel very cramped.
Perfect Tent Location:
Most of the campground has a tent pad where you can place your tent. But many campsites do not have any designated tent pad. In that case, always chose a place to make your tent where no water will accumulate if it rains.
Tarpaulin:
Always make your tent on top of a tarpaulin.
Though we don't see it, water vapor comes out of the ground. If we make our tent without the tarp, then all those water vapors will accumulate under our tent. It will eventually form water droplets. This water with dirt will create a huge mess.
Sleeping Bag:
Always buy a sleeping bag that is rated for very low temperatures. For example, 20-30 degrees Fahrenheit. When you are making a cross country road trip, you will face many different types of weather and temperature at the same time. From cold of Colorado mountains to the scorching heat of Death Valley. Always be prepared for the worse situation.
Last year, during our road trip, we stayed at Big Horn National Forest for one night. The night before that, we stayed in a campground in Nebraska. The temperature in Nebraska was moderate. We had 2 sleeping bags rated for 40 degrees Fahrenheit. We thought that everything is going to be okay. But, at the Big Hore National Forest, the temperature at night dropped below freezing. Our 2 sleeping bags did nothing to keep us warm. It was a very painful experience. We could not sleep in our tent. We slept inside our car that night. The very next day, we bought another sleeping bag rated for 20-degree Fahrenheit. We faced no more problems during our stay at Yellowstone National Park because of this extra low-temperature sleeping bag.
Sleeping Pad:
Always use a sleeping pad under your sleeping bag. If you don't use it, the earth will absorb your body heat through your sleeping bag. Without it sleeping at night inside the tent will become a nightmare. Always try to use a sleeping pad with a very high R-value.
What is R-value:
Here R stands for Resistance. The ability of the sleeping pad to resist heat transfer. Higher the R-value, the better.
Don't Use Airbed Mattress or Air Pillow:
Never try to use an airbed mattress in camping. The airbed mattress does nothing to keep you warm. It has almost 0 R-value. At night, this airbed mattress will become very cold, making you very uncomfortable.
Don't use an air pillow either. It has the same problem as an airbed mattress. We bought 2 air pillows thinking it would be beneficial for our sleep. But at night it becomes cold, so we end up not using it. Currently, we are using a regular pillow.
Tent Stakes:
We recommend keeping tent stakes with you at all times. Usually, stakes will come free with your tent. When necessary, use stakes to keep your tent in place, otherwise high wind will blow away your tent.
Offline maps:
Offline maps is a must-have tool for camping. There are many offline maps app on the app store. We have tested and tried many of them. But we found that Goole Maps is the best one in every aspect. You can download google maps data for offline use.
How to download Google maps data for offline use?
The following video shows how to download Google offline map data.
After the download complete, just use Google Maps usually. Search and navigation will work as usual, even if you are offline.
Please Pay Attention To Road Closure Notice:
During the winter season, many roads are closed. Before you make your travel plan, please keep this in mind. Always check every location's website for any potential road closures.
This year we made several mistakes. We were visiting Yosemite National Park in June. We could not reserve any campground inside this national park. So, we decided to camp at Oh Ridge Campground on June Lake. We planned to use the Tioga Pass Road. When we reached Yosemite National Park, we found that the pass is closed due to snow. To go to our campground, we had to take a 4-hour detour. This made our Yosemite visit a nightmare.
It also was our plan to visit the Devils Postpile National Monument. There was no warning or road closure sign on google maps. But after driving 1 hour to reach this monument, we found this road is also closed due to snow.
Propane Stove:
There are various types of stoves out there. Propane, Butane, or wood-burning stove. However, we highly recommend a propane stove or a stove that can run both on propane and Butane.
Butane and butane stoves are cheap compared to propane and propane stove. However, in cold temperature butane stoves perform very poorly. That's why buy a good propane stove with good ratings. We are using this propane stove for several years with excellent performance.
We never recommend using a wood-burning stove. We do have a wood-burning stove. We used it in our last years' road trip. Though it is an excellent stove, it has several cons, such as-
Starting a fire is not a very quick process.
Maintaining a consistent wood flame is tough.
Wind makes it very hard to keep the flames.
Cleaning ashes after use from the stove is a mess.
Utensils get very dirty, cleaning them is a mess.
It is not very practical for quick food or drink preparation, for example, coffee.
Where to buy propane:
If you are car camping or tent camping, then buy a 16oz propane bottle from Walmart. From our experience, Walmart sells those at a very low price compared to Target and Amazon.
However, for RVers, a refillable 20 lb propane tank is an excellent option.
Bug Repellent:
Bring bug repellent on every road trip.
Last year we were visiting Acadia National Park in the summer. During the Jordan Lake round hike, bugs were trying to eat us alive.
Candles:
Candles are beneficial to start wood stove fire or campfire.
Pet food:
Don't forget to bring food for your furry friends.
I have Fish. What should I do?
We do not recommend bringing your pet fish on a road trip. We made this huge mistake on our first road trip. We had a pet fish, which we loved a lot. At that time, we did not know what to do. So, In a glass bowl, we took our pet fish. Unfortunately, on the first night, the fish died because of the cold temperatures at night.
However, recently we found a solution for this pet fish problem. From Amazon, we bought this machine. It uses 2 AA battery, can be programmed to give food to fish automatically according to your desire, and can run for years on a new 2 AA battery. This machine made our road trip worry-free.
Territorial Dog:
Some dogs are very territorial. This year we saw an example during our stay at Indian Dunes State Park. One couple had a territorial dog. It was barking at every person, child, and other dogs. Due to several complaints, the camp host politely asked them to do something. Out of embarrassment, the couple left the campground very early the next day. So, It is our suggestion to leave your territorial dog at your home.
Water filtration system:
Keep a water filtration system with you at all times. There are various systems out there. Chose the right water filtration method, which suits your needs.
This year we did not keep any filtration system with us assuming that we don't need one. However, during our stay at Warner Campground, Manti-La Sal National Forest, we realized we made a huge mistake because, at that campground, there is no drinkable water. So, we recommend keeping one water filter even if you think you don't need this.
Backpack:
On a hike, the backpack is very beneficial. Carry all your drinkable water, sandwich, chips, chocolate, clothes in a backpack.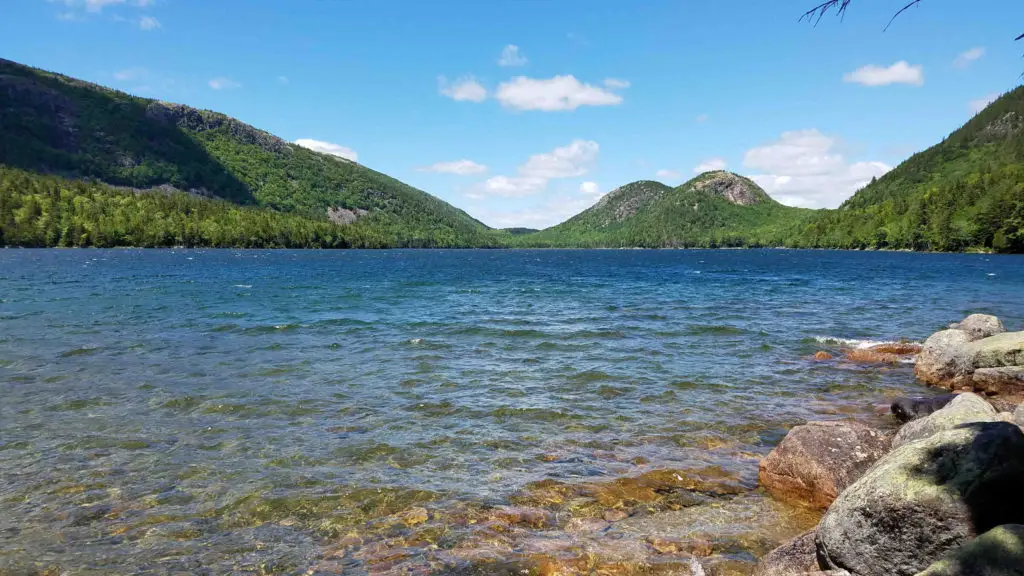 Campground Reservation:
You can reserve a campground through these websites.
Music and Podcast:
Download all your favorite music and podcasts for offline uses. Don't rely on the cell service on a road trip.
Bath Shoes:
Bath shoes are very helpful when taking a bath in a campground shower.
Annual Park Pass:
If you are visiting more than 3 National parks in a year, please buy America the Beautiful annual park pass. It costs only $80, which is totally worth it. Website: https://www.nps.gov/planyourvisit/passes.htm
Tips:
For single night stay, try to avoid state park or state recreational area. Sometimes those places have an entrance fee.
Try to reserve a campsite where shower facilities are available.
Daily Drive Distance: On a road trip, we suggest driving 360 to 400 miles every day. On the highway, if the average speed of a vehicle is 65 mph, you can go this distance within 6 hours. But this drive will become 8 hours due to bathroom and food breaks.
While cooking, don't use a plastic fork instead use metal utensils. Even thick plastic fork will melt.
LED lantern is super helpful during camping. Don't miss your LED headlamps too.
Keep a tire repair and tire inflation kit.
We never carry any camera other than our cellphone to capture photos.
Use plastic boxes to keep everything organized.
Unofficial Camping Etiquette:
Almost the whole US is a bear country. Always keep your food, perfume, cosmetics, scented items in a bearproof containers if possible.
Campground has limited mirrors in bathrooms. Please do not block those for your morning make up routine.
Please always respect other campers' privacy.
Please do not trash the bathroom floor with toilet tissue.
Keep your pet on a leash.
Respect the campground's quiet hours.
If you are traveling with your RV, we do not recommend staying overnight at a truck rest stop. First, this would not be a quiet place. Second, at night 18 wheel truckers struggle to get a spot to park and take required rest. Sometimes they frown upon RVer's for taking their much-needed parting spot.
Conclusion:
This article is most helpful for car camping, also known as tent camping. But this general knowledge will also help backpackers and RVer's.
Disclosure: As an Amazon Associate we earn from qualifying Amazon purchases.