When we bought our first car, we didn't know anything about insurance. A salesperson at the dealer helped us to get Geico auto insurance. During our phone conversation with a Geico agent, he asked us how many miles we will be driving each year? Without any thought, we said 25,000 miles. 
But that was a mistake.
Auto insurance rates can increase depending on how much you drive yearly. It's because the more you drive, the more you are at risk of an accident. According to Geico, People who drive fewer miles than average are usually eligible for lower auto insurance rates.
Later we realized because of that high mileage, our insurance rates were higher. I had Geico online account, so I tried to find an option to change the Geico mileage but could not find anything on their website straight away.
However, I found a neat trick on how to edit Geico mileage online. Following 14 easy steps will show you that.
Summary of all these steps:
Go to your Geico account through a browser.
Edit your vehicle coverage.
Change your address slightly, such as from "ST" to "Street," which will trigger Geico to let you change your yearly mileage.
Let's elaborate.
Step 1: First, go to your Geico online account. To login, visit the official Geico website https://www.geico.com/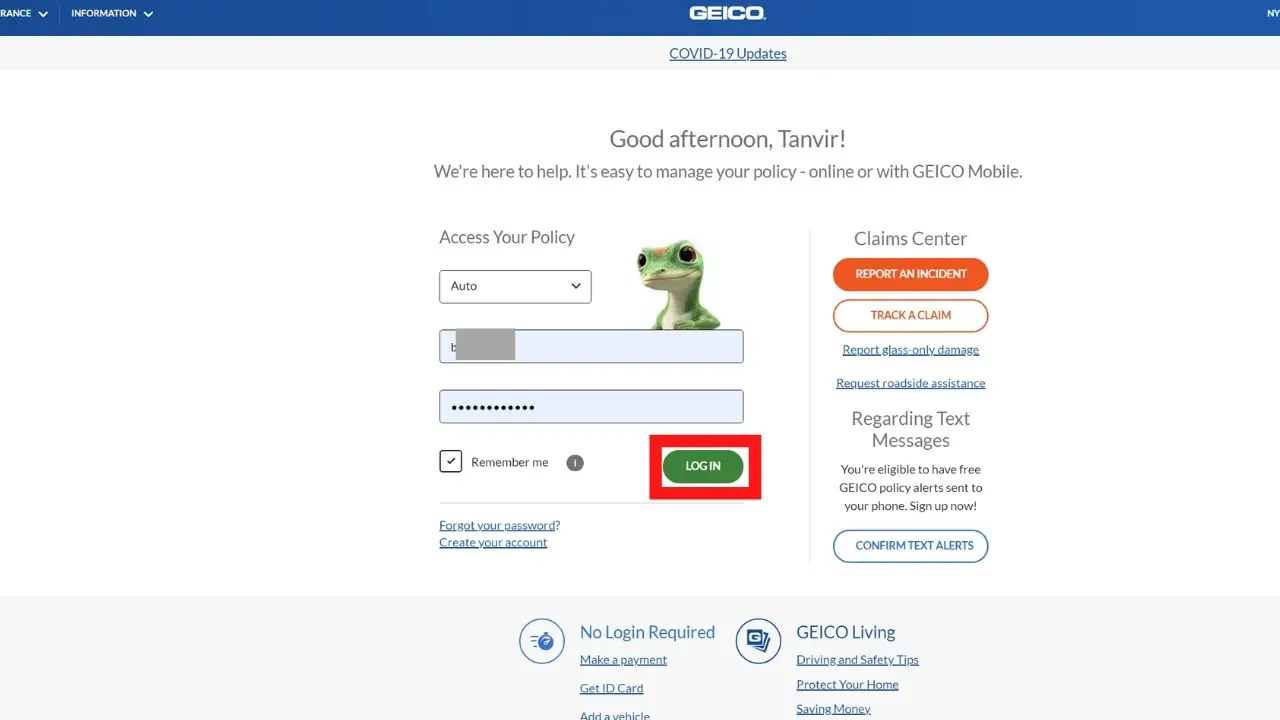 Step 2: Insert your Geico username and password and click on "Log In."
Step 3: From the top bar menu, click on "My Policy Details."
Step 4: Under the "Vehicles" tab, click on "View/Edit."
Step 5: On the next page, at the bottom of the page, click on the "I want to…" button.
Step 6: From the menu, click on "Edit this Vehicle."
Step 7: On the next page, click on the "VIEW AND EDIT" button.
The next step is crucial. This step will trigger to allow you to change your vehicle mileage.
Step 8: At the bottom of the page, select "No" under "Vehicle Location., and "No" for "Mailing Address."
Don't worry. We actually will not change the address.
Now click on the "Continue" button.
Step 9: Select, "I would like a Quote to make a change to a vehicle." and click "Continue."
Step 10: This step is essential.
Geico will show your current mailing address here. You have to put a new address to continue to the next page. However, we will not change the real address. 
Here's the trick.
If your address on Geico is "2545 Cruger AVE," change the AVE to "AVENUE" for example, your new address should be "2545 Cruger AVENUE."
Another example. If your address on Geico is "25 13th ST.," change the ST. to "Street," for example, your new address should be "25 13th Street."
Step 11: After the new address, click "Continue."
Step 12: Now, Geico will show you the "Vehicle Use" page. From here, change the "Miles driven per year." and click "Continue."
Step 13: Geico will show you a new quote based on your new mileage. For our case, we saved $256.7 on a six-month premium.
Step 14: If you are satisfied with the new quote, click on "Continue to Apply." and proceed to your new policy.
Now you have a lowered Geico monthly payment.
Alternative Approach:
If you are not comfortable with the approach mentioned above, please call Geico. However, you specifically have to tell the Geico agent that you want to change your yearly mileage number from your policy. Sometimes, they may ask for a reason for your mileage change. Tell them your legitimate reason; for example, you no longer commute to your business, you work from home.
Warning:
Geico has an App. However, we don't use it. Geico tracks its users through that app. So, we recommend you don't install that app on your phone.
Conclusion:
Changing the yearly driven mileage from your auto insurance policy can save you significant money. If you no longer commute, do change your auto insurance mileage.