Model 3 is a five-seater compact family sedan. In 2020, consumer reports declared Model 3 as the best electric vehicle. However, long before this, one of my favorite YouTubers — Doug DeMuro — said model 3 is the best car money could buy. According to him, if you look at Model 3 on paper and you almost can't afford NOT to buy it. It's as quick as a BMW M5, but it costs the same as a mid-level BMW 3-series, it's a crazy bargain.  
Doug DeMuro also said — The Tesla Model 3 is one of the best cars on sale today. Maybe the very best truthfully. And I think as time goes on we will look back on the Model 3 as an automotive revolution like the Ford Model T, the Chrysler minivans, the original Lexus ls400 all that stuff that car historians, business historians considered to be seminal and I think the Model 3 is on that level. It's an important car, and it's an amazing car. Truly insanely excellent. 
If you are on the market for a new car and researching Tesla Model 3 as a potential purchase, this article would help you tremendously. Here we are going to discuss everything you need to know about a Tesla Model 3. 
Tesla, on its website, gives three versions of Model 3 as a purchasing option. These are – 
Standard Range Plus (SR+) starts at $39,990
Long-Range Dual Motor All Wheel Drive starts at $48,990
Performance Dual Motor All Wheel Drive starts at $56,990
SR+ Model 3 has a range of 250 miles, a top speed of 140 mph and goes 0-60 in 5.3 seconds.
Long Range Model 3 has a range of 322 miles, a top speed of 145 mph and goes 0-60 in 4.4 seconds.
Performance Model 3 has a range of 322 miles, a top speed of 145 mph and goes 0-60 in 3.2 seconds.
However, one notable Model 3 is absent here — the $35,000 Model 3. Don't worry. This model is available to purchase from Tesla. You have to call Tesla to place an order for this $35,000 Model 3. It is my impression that Tesla does not want to sell this model, as this does not give them significant profit margins. 
Color:
The standard color for a Model 3 is Pearl White Multi-Coat. But there are four other colors available. These are –
Solid Black
Midnight Silver Metallic
Deep Blue Metallic
Red Multi-Coat
However, you have to pay an extra $1,000 for Black, Blue, and Silver Color. $2,000 extra for the Red Multi-Coat. 
Wheels:
Every Model 3 comes standard with 18 inch Aero wheels. But 19 inch Sport wheels are also available but it would cost you $1,500. However, if I were you, I would keep the standard 18-inch wheel. The Model 3 sports wheels are not good for potholes. I've seen several cases where simple potholes caused 2 wheel damage on Model 3. To be honest, these sports wheels are not good for any cars. In the case of Model 3, 2 wheel damage would cost you around $2,600. Here is an excellent video on YouTube from "Engineering Explained."
Model 3 Exterior Dimensions:
Overall Length is 184.8 inches
Overall Width is 82.2 inches (76.1 inches with folded mirrors).
Height is 56.8 inches.
Model 3 has a wheelbase of 113.2 inches.
Model 3's ground clearance is 5.5 inches.
Cargo Volume:
The total enclosed cargo volume for Model 3 is 15 cubic ft. (425 L)
Note: Do not tow anything with your Model 3. Towing would damage your Model 3.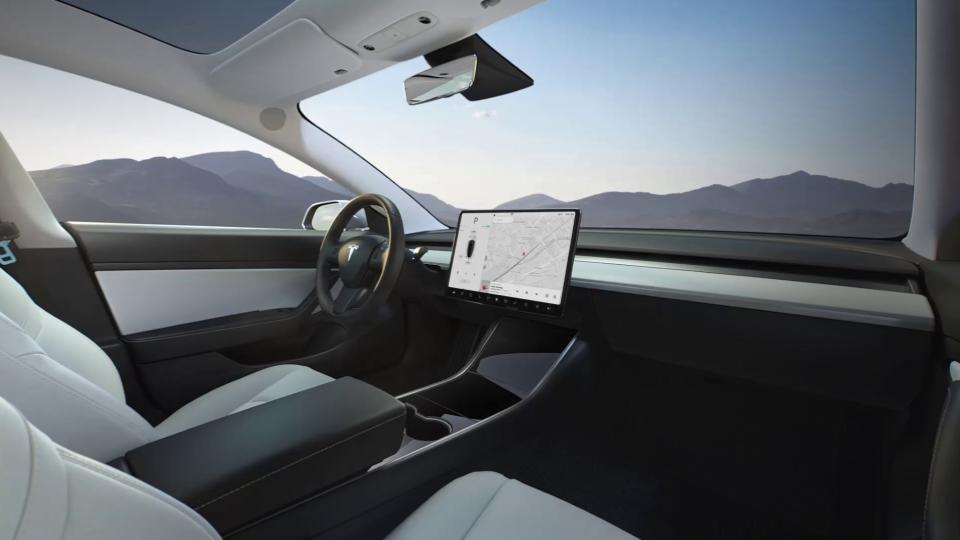 Interior:
"All black" is the standard interior color. There is another interior color — Black and White — priced at $1,000. If you want the White interior but are concerned about stains, don't worry. From numerous Model 3 owners, we heard that the White interior is very easy to clean. 
Every Model 3 has the following standard interior features:
12-way power-adjustable heated front seats
Tinted glass roof with ultraviolet and infrared protection
Power folding, heated side mirrors
Music and media over Bluetooth
Custom driver profiles
Center console with storage, 4 USB ports, and docking for 2 smartphones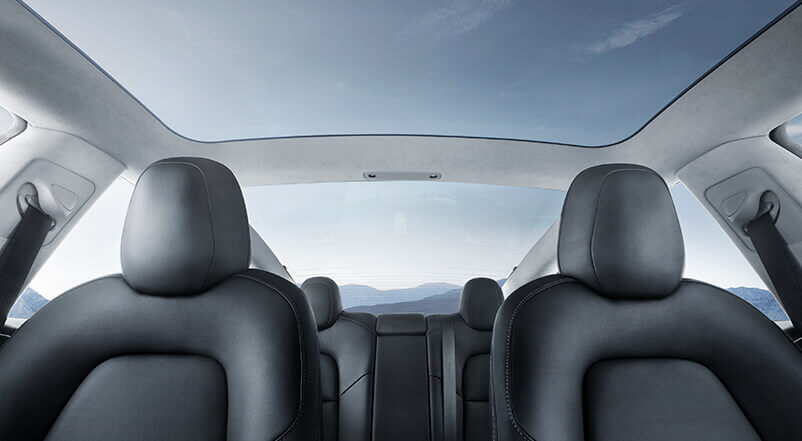 Premium Connectivity (30 days free, after that $10/month) includes:
Satellite maps with live traffic visualization
In-car internet streaming music and media
Video streaming
Caraoke
Internet browser
Autopilot — Driver Assist System — is standard on every Model 3. This enables your car to steer, accelerate, and brake automatically for other vehicles and pedestrians within its lane. This driver assistance system also includes emergency braking, collision warning, and blind-spot monitoring.
However, you have to pay $7,000 to get the Full Self-Driving features. But we want to mention that Tesla's Full Self-Driving software still not feature complete, and we highly doubt it will be in the near future. As of writing this article "Full Self-Driving" software can perform following things –
Navigate on Autopilot: automatic driving from highway on-ramp to off-ramp, including interchanges and overtaking slower cars.
Auto Lane Change: automatic lane changes while driving on the highway.
Autopark: both parallel and perpendicular spaces.
Summon: your parked car will come to find you anywhere in a parking lot.
Tesla Promises to bring following features soon –
Recognize and respond to traffic lights and stop signs.
Automatic driving on city streets.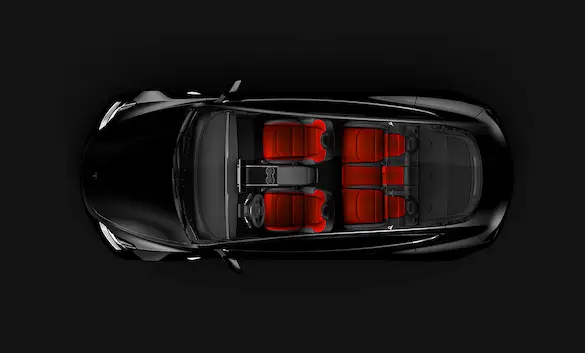 Software Features:
Tesla is one of the most advanced cars in the world. Sometimes people say that it is an iPad on wheels. But it is more than that. 
Model 3 has a very simplistic interior. Other than the 2 scroll buttons on the steering wheel, there are no buttons inside the car. Everything is controlled through the 15-inch center console panel. 
This center console panel is the world's most advanced infotainment system. I always wondered why car companies never give us a good and big screen for the infotainment system. But no other company except Tesla has ever given a big touch screen for its infotainment system. 
Everything in a Tesla Model 3 can be controlled through this 15-inch touch screen. Front trunk opening, glove box opening, air conditioner, seat heating, window defrost, vehicle speed, windshield wiper speed, etc.
This infotainment also includes arcade games, built-in google maps with a live traffic update, Spotify, Netflix, Hulu, Disney+, Caraoke ( Karaoke for cars), internet browser, and many other features.
Car Keys:
Model 3 does not come with traditional car keys. Tesla provides an NFC enabled card, similar to a credit card. This acts as a car key. You can keep this in your wallet. When you want to unlock your car, just tap this card to the driver side B pillar. Keep the card at the center console to continue driving. Unlike a traditional vehicle, Model 3 does not need to be turned on. Get into the car and drive. Model 3 is always on. 
Alternatively, you also can use your phone to control your Model 3. To do this, you need to download the Tesla Mobile App. Tesla Mobile App has the following features-
Keyless driving: You can unlock and drive your car without your key.
Range status: Check current range, charge status, and receive charging complete notifications.
Climate Control: Remotely turn on the climate control system of your Model 3.
GPS location: With this GPS location feature, you can track your Model 3 anywhere in the world.
Valet Mode: Restrict access to your car by hiding all personal data from your touchscreen, limiting maximum speed and performance of your Model 3, and locking your front trunk and glove compartment.
Schedule Service: You can schedule service visits to a Tesla Service Center through the Tesla app.
Pros of Tesla Model 3:
Model 3 has many advantages. The following are some notable ones.
Features Available Only In a Tesla Model 3:
No other car manufacturers except Tesla provides the following features in their cars.
Sentry Mood:
Sentry Mode adds a unique layer of protection to Tesla vehicles by continuously monitoring the environment around your car when it's left unattended. When enabled, Sentry Mode enters a "Standby" state, like many home alarm systems, which uses the car's external cameras to detect potential threats. If a minimal threat is detected, such as someone leaning on a car, Sentry Mode switches to an "Alert" state and displays a message on the touchscreen warning that its cameras are recording. If a more severe threat is detected, such as someone breaking a window, Sentry Mode switches to an "Alarm" state, which activates the car alarm, increases the brightness of the center display, and plays music at maximum volume from the car's audio system. If a car switches to an "Alarm" state, owners will also receive an alert from their Tesla mobile app, notifying them that an incident has occurred.
Dashcam:
Every Tesla has 8 cameras. While configured, these cameras work as a 360-degree dashcam.
One of The Safest Vehicle on Earth:
Model 3 achieved an NHTSA 5-star safety rating in every category and subcategory with its energy absorbent crash structure, rigid passenger compartment, incredible side impact protection and one of the lowest rollover risks of any sedan on the road.
Entertainment Application:
Every Tesla has built-in Netflix, Hulu, Spotify, and YouTube.
Arcade Games:
Every Tesla has built-in arcade games. Tempest, Asteroids, Fallout Shelter, Beach Buggy Racing 2, Lunar Lander, Missile Command, Centipede, Cuphead, Super Breakout, and many more games are already available. Moreover, Tesla continuously adds more games on every software update.
Caraoke:
It's Karaoke but in your Tesla. 
Over The Air (OTA) Software Update:
Only Tesla among the whole car industry updates its car software over the air update. Every few months, Tesla is improving its car software and pushing updates to its fleets.
Low Depreciation:
So far, I have seen that a Tesla Model 3 depreciates very slowly. Compare this with a BMW that depreciates very rapidly within a year.
From August 2019 to January 2020, automotive research firm and car search engine — iSeeCars.com — analyzed over 6 million new and used vehicles. They identified the top ten cars that have the lowest depreciation in a single year. They also identified those vehicles that have the highest depreciation in the first year. 
According to their findings, Tesla Model 3 is the least deprecated car in the first year. It only depreciated by 5.5%. If you think about it's a miracle. In the car business, it's a known fact that the moment you drive off dealers lot with a new vehicle, your car instantly loses 20% of its value. It's insane, right? 
A new car loses most of its value in the first year. Then it depreciates slowly over the next few years. Tesla Model 3 depreciates only 5.5% in the first year. Later it loses its value more slowly. Compare this to the BMW 7 series, which depreciates 43.4% in the first year. Audi A6 loses 41%, Jaguar XE depreciates 40.9%, and BMW 3 series depreciates 38.2% in the first year. 
So, from the depreciation perspective, Model 3 is the best vehicle money can buy.
Cost of Ownership:
The cost of ownership includes vehicle cost, fuel cost, insurance, and maintenance cost. Though the initial purchase price of the Tesla Model 3 is higher than other sedans such as Toyota Camry or Honda Accord, if you factor in the fuel cost and yearly maintenance cost, Model 3 becomes the least expensive vehicle to own over 5 years. 
For example, A Toyota Camry hardly gets 25 miles per gallon. Over 5 years If I drive 100,000 miles, then I need a total of 100,000/25 = 4,000 gallons of gas. Though the fuel price changes depending on the state, fuel grade, fuel companies, $3 per gallon, fuel price is common. In California, the fuel price is over $5 per gallon. However, even a $3 per gallon would cost us a total of 4,000 gallons X $3/gallon = $12,000 in fuel cost. 
In the case of Model 3, the energy cost would be significantly lower. Tesla Model 3 has an efficiency of 4 miles per kWh. To travel 100,000 miles we need a total of 100,000/4 = 25,000 kWh electricity. Though Tesla Supercharging cost varies depending on location, It charges $0.28 per kWh at its most expensive Supercharger. So, the total cost of electricity is 25,000 X $0.28 = $7,000. If you charge your vehicle at your home, this recharge cost will reduce significantly. 
This shows that in the long term, Model 3 is the best vehicle to own.
Model 3 Customer Satisfaction:
Every Model 3 owner we have talked to loves their Tesla very much. Even we found that after an accident where a Model 3 got totaled, the owner buys another Model 3. 
In 2019, consumer reports surveyed half a million car owners and ranked the top 10 most satisfying car models. Tesla Model 3 was on top of the list. 
Camping:
Model 3 is perfect for camping. Though it could be cramped for 6-foot people, I have seen many people camping in Model 3 comfortably. On a traditional vehicle to turn on AC and Heat, we need to keep the engine running. However, in a Tesla Model 3, we can use the AC and Heater comfortably all night without a significant battery discharge.
Cons of Tesla Model 3:
Here are a few cons of the Tesla Model 3.
Price: 
Though Tesla Model 3 starts at $35,000, the range on this car is not that high. On the other hand, a long-range Model 3 costs more than $50,000, including taxes and interest. This price is too steep for a middle-class family. 
Higher Insurance Premiums:
Teslas are expensive to insure. Insurance premium depends on various factors such as cars price, drivers age, sex, license age, points, address, etc. However, from my experience, I found that Model 3 costs more to insure than a comparable vehicle. This is because Every Tesla is very expensive to repair and very easy to total.
Body Damage Repair Cost, and Time:
Tesla has a bad reputation for being very expensive to repair. Previously we wrote a reference article where we gave multiple examples that show how expensive it is to repair a Tesla. Moreover, repairing Tesla also takes a long time. 
Tesla's body damage repair must be done in a Tesla certified repair shop. And only Tesla sells all the repair parts. It takes a long time to get replacement parts from Tesla. I've seen Tesla owners who have waited for 3 to 4 months for their vehicle to be fixed.
Low Seat:
I have seen a few Model 3 owners who have returned their Tesla only because the seats are low. Model 3 seat configuration is almost like a sports car. Some people like it or may prefer it. But not everyone. Some customers want a higher seat height. For them, the Model 3 is not the best choice. We are one of them. When we first saw the Model 3, our first impression was, NO. Because of my knee problem, Model 3 is not the best choice for me. I'm sure there are many buyers out there who would agree with me. 
Model 3 Vandalism:
People think that only ultra-rich people can afford a Tesla. They do not realize that one can buy a Model 3 for only $35,000. Those who hate rich or despise beautiful things feel an urgency to vandalize a Model 3. I've seen hundreds of cases where people vandalized a Model 3 only because it's a Tesla. 
Unintended Acceleration:
On several occasions, Model 3 customers have accused that while parking their Tesla accelerated unintentionally and caused an accident. But Tesla has denied all these accusations and said there is no unintended acceleration. According to the car log, the customer pressed the accelerator pedal mistakenly instead of the brake pedal on each of these accidents. 
Even if it's true that your car is accelerating unintentionally, you should press the brake pad. Brake always overrides the accelerator. It's valid for every vehicle on the road. You can test it out by yourself. Here's how you can test it. In an empty road with your foot, press the accelerator pedal. When the car starts to move forward now press the brake pedal with your other foot. Your car would stop instantly. 
Poor Paint Job:
On several occasions, I have seen people complain about the paint quality on Model 3.
Highway Range:
On a traditional Internal Combustion Engine (ICE) car, the gas mileage is better on the highway compared to city driving. However, on a Model 3, the opposite is true. The city driving has a better range. On the highway, the range of a Model 3 reduces significantly. Depending on the weather, road conditions, and vehicle speed, the range could reduce 20% to 30%.  Moreover, in a colder climate, EV's efficiency reduces considerably.
---
Model 3 Maintenance:
According to Tesla, a Model 3 only needs as-needed basis servicing. However, Tesla recommends the following maintenance items and intervals under the normal driving conditions to ensure the continued reliability of a Model 3.
Brake fluid health check and replacement (if necessary) every 2 years.
A/C desiccant bag replacement every 6 years.
Cabin air filter replacement every 2 years.
Rotate tires every 12,000 miles (20,000 km) or if the tread depth difference is 2/32 inch or greater.
Windshield wiper replacement at least once a year.
Other Regular Checks:
Regularly check the windshield washer fluid level and top up if necessary. 
Battery Coolant:
Model 3 has an active battery cooling system. However, under most circumstances, a Model 3 does not need any battery coolant replacement for the life of the vehicle. 
12V Battery:
Don't be surprised to read this that your Model 3 has a 12V lead-acid battery. From our experience, we found that every 3 years, this 12V battery needs replacement. Tesla uses this 12V battery to support auxiliary power on the Model 3. As a replacement, use 33 Amp-Hour or higher 12V battery. 
Main Battery Maintenance:
Model 3 has one of the most sophisticated battery systems in the world. According to Tesla, the best way to preserve the battery is to leave your vehicle plugged in when you are not using it. 
When Model 3 is not being driven, its battery discharges slowly — at the rate of 1% daily — to power the onboard electronics. So, always keep this in mind when you are planning to leave your Model 3 anywhere for an extended period of time. For example, If you leave your vehicle for 30 days, it would lose a 30% battery charge. Moreover, the Model 3 main battery also recharges the 12V battery. Allowing your Tesla Battery to discharge to 0% may result in damage to your vehicle components. In this situation, the 12V battery also could deplete completely. If this happens, you won't be able to unlock your model 3. 
According to Tesla, Discharge-related expenses are not covered by the warranty or under the Roadside Assistance policy. So, in these cases, you are responsible for repair and transportation expenses.
Note: Always perform all the maintenance at a Tesla Service Center. Any damage caused by a non-Tesla certified workshop would void your car warranty. 
Motor Maintenace:
The Model 3 motor does not need any maintenance. Tesla uses a lubricating oil inside their motor. But it does not need to be replaced during the life of a Model 3.
Conclusion:
Tesla Model 3 is not only the best EV, but it is the best car one can buy. I do understand it is not the best choice for everyone. In that scenario, you may look into the Tesla Model Y. It's another great technological achievement from Tesla. 
Frequently Asked Questions and Answer:
Can I Charge My Model 3 Overnight?
Yes. Not only that, Tesla highly recommends doing it. Recharging overnight would not harm your vehicle's battery.
How to order a $35,000 Model 3?
Please call Tesla if you want to order the $35,000 Model 3. 
Do Model 3 Needs Battery Coolant Replacement?
A Tesla Model 3 does not need any battery coolant replacement for the life of the vehicle.