Tesla CyberTruck is the newest vehicle Tesla CEO Elon Musk has unveiled. Its starting price is $39,900, can take a sledgehammer, withstand 9mm bullet, and has an unbreakable glass window. This truck also gets 0 to 60 in less than 2.9s, goes 500+ miles on a single charge, can tow up to 14,000 lbs, carry 3,500 lbs, and can seat up to 6 people.
Everything you need to know about Tesla's newest pickup truck, we are going to discuss here. At the end of this article, we also have given 4 unrefutable cons of Tesla CyberTruck.
Design:
The design of this pickup truck is very polarizing. People are divided into two groups. One group of people loves the futuristic, blade runner, origami-style design of the tesla cybertruck, another group absolutely hates it. If you think its design is ugly, then you are not alone. It's design also confusing us.
Our first impression was – "What is this? It is the ugliest looking thing we have ever seen in our life". But after a few days, the design seemed reasonable to us. When we compared the CyberTruck with Ford F150, Tesla's truck design seemed clean and futuristic.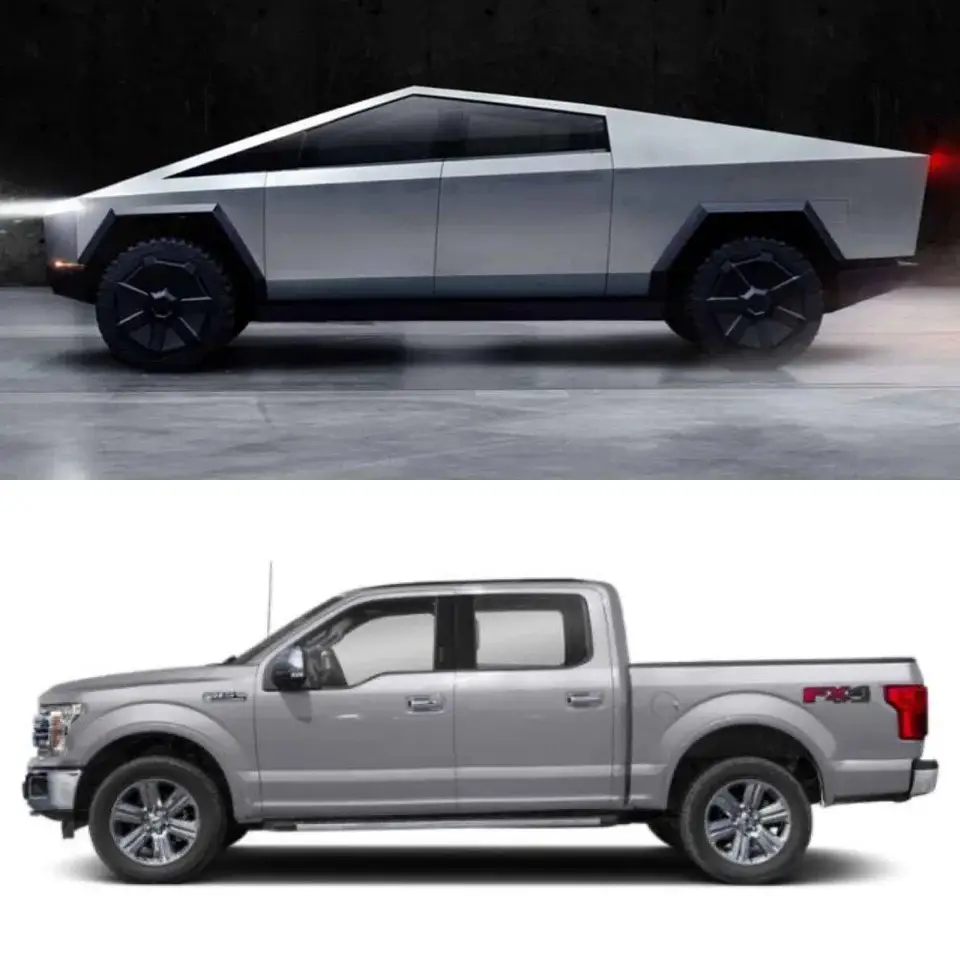 Though design matters, the vast majority of people buy pickup trucks as a utility vehicle. We are also purchasing a Tesla CyberTruck because of its vast utility features. However, we are not alone. Within 48 hours of its unveiling, Tesla got more than 200,000 pre-orders of this CyberTruck.
We do believe this vehicle is not for everyone. That's why we have so many vehicle shapes, designs, and colors from different companies on the market.
The following video shows the power of CyberTruck.
Tesla Truck Price:
Tesla CyberTruck comes in 3 variants. The configuration and prices are given below:
Single Motor Rear Wheel Drive: $39,900 [Base Tesla Price]
Dual Motor All-Wheel Drive: $49,900
Tri-Motor All-Wheel Drive: $69,900
Dimensions of CyberTruck:
During the Tesla CyberTruck unveiling event, Elon musk showed the following slide –
This shows that CyberTruck dimensions are:
Length: 231.7 inches
Width: 79.8 inches
Height: 75.0 inches
Tesla CyberTruck Range:
Tesla has a history of under-promising but over-delivering. It happened with Model X, Model 3. So, we are quite sure when Tesla CyberTruck comes out; it would have more range than Tesla advertised. However, as of today the range of these pickup trucks are –
Single Motor Rear Wheel Drive: 250+ Miles
Dual Motor All-Wheel Drive: 300+ Miles
Tri-Motor All-Wheel Drive: 500+ Miles
Tesla Truck Bed and Storage:
Tesla's CyberTruck has a stainless steel 6.5ft long bed. However, Tesla calls it a "vault." This pickup truck has 100 cubic feet of exterior, lockable storage — including the under-bed, frunk, and sail pillars.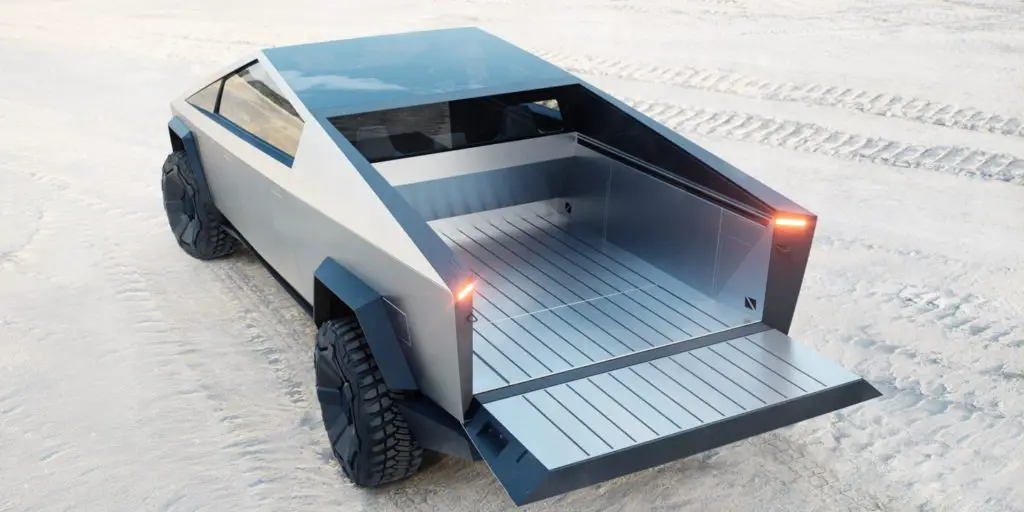 Tesla Pickup Truck Towing Capacity:
Tesla CyberTruck can tow more than a similarly priced truck from other manufacturers.
Single Motor Rear Wheel Drive: 7,500+ lbs.
Dual Motor All-Wheel Drive: 10,000+ lbs.
Tri-Motor All-Wheel Drive: 14,000+ lbs.
Better truck than an F-150, faster than a Porsche 911.

– Elon Musk
Tesla Truck Interior:
Tesla is well known for its minimalistic interior design. This pickup truck also bears this futuristic, minimalistic design cue. Here is a picture of the interior. It has a giant 17" touch screen, can seat up to 6 people, and has a marble dashboard.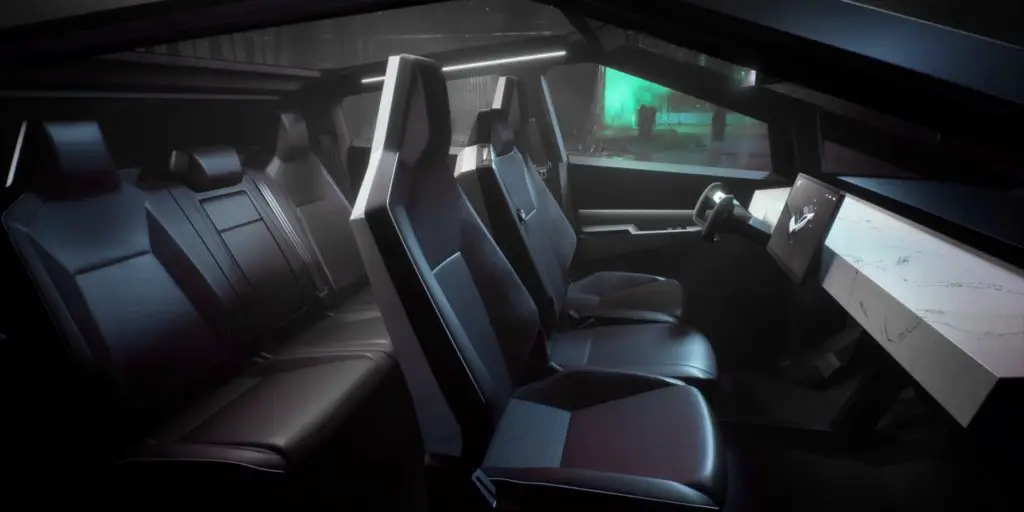 Tesla CyberTruck Specs:
| | | | |
| --- | --- | --- | --- |
| | Single Motor RWD | Dual Motor AWD | Tri-Motor AWD |
| 0-60 MPH | <6.5s | <4.5s | <2.9s |
| Range | 250+ Miles | 300+ Miles | 500+ Miles |
| Storage | 100 cubic ft. | 100 cubic ft. | 100 cubic ft. |
| Truck Bed | 6.5 ft. | 6.5 ft. | 6.5 ft. |
| Towing Capacity | 7,500+ lbs. | 10,000+ lbs. | 14,000+ lbs. |
| Ground Clearance | Up to 16'' | Up to 16'' | Up to 16'' |
| Approach Angle | 35 Degrees | 35 Degrees | 35 Degrees |
| Departure Angle | 28 Degrees | 28 Degrees | 28 Degrees |
| Top Speed | 110 mph. | 120 mph. | 130 mph. |
| Price | $39,900 | $49,900 | $69,900 |
Note: Autopilot and Adaptive Air Suspension is standard on every CyberTruck.
If you are wondering what is approach and departure angle, and is it important? Then please continue reading.

What is Approach Angle?
In the above picture, "A" is called an approach angle. If you draw a line between the front tire and the lowest hanging part of the vehicle's front. The angle between this line and the ground is called the approach angle.
What is Departure Angle?
In the above picture, "D" is called a departure angle. If you draw a line between the rear tire and the lowest hanging part of the vehicle's back. The angle between this line and the ground is called the departure angle.
For off-road driving, approach and departure angle is very important. The higher the approach and departure angle, the better.
Bulletproof Exoskeleton:
Tesla CyberTruck's body is made of ultra-hard 30x cold-rolled stainless steel. This helps to eliminate dents, damage, and long-term corrosion. It's the same material SpaceX is using to build its rocket, specifically next-generation all-purpose Starship.
The following video shows that this truck can withstand a sledgehammer. Tesla's Cheif Designer Fraz is doing the test.
Tesla electric pickup truck is so strong that it can withstand 9mm bullet shot at close range. Watch the video demo below:
As you have already guessed, Tesla pickup is a great off-roading vehicle.
We all know "Tesla hate is real." People vandalize Tesla only because it is Tesla. However, this pickup truck is almost vandal proof.
Tesla CyberTruck's Unbreakable Window:
Tesla pickup truck has "Tesla Armor Glass." Elon Musk calls it "Transparent Metal." This polymer-layered composite glass is almost shatterproof. Watch the video below. Tesla's chief designer Franz is throwing a metal ball at the CyberTruck Window. There's no damage to the window.
Elon Musk calls this CyberTruck as "Armored Personnel Carrier."
However, during a live demo at the unveiling event of Tesla CyberTruck, the window broke. Amazingly the metal ball did not go through. Elon Musk later tweeted, "We threw same steel ball at same window several times right before event & didn't even scratch the glass!"
This video excellently explains why the glass broke:
Built-in ramp & Metal Truck Bed Cover:
A metal canopy covers the Tesla truck bed. It's strong enough to withstand a person's weight. It opens and closes on a button press. This CyberTruck also has a built-in ramp. The following video snippet shows the demonstration.
No More Generator:
Tesla pickup truck has a huge onboard battery. Technically it can power your house for weeks. It comes with a built-in 110V and 220V outlet. So, either you are camping or doing construction works, you don't need to carry a generator anymore.
Air Compressor:
This truck comes with a built-in air compressor. We don't need to carry any air compressor to a job site.
L Track Rails:
The truck has an embedded tie-down L track rails on the sidewall of the truck bed.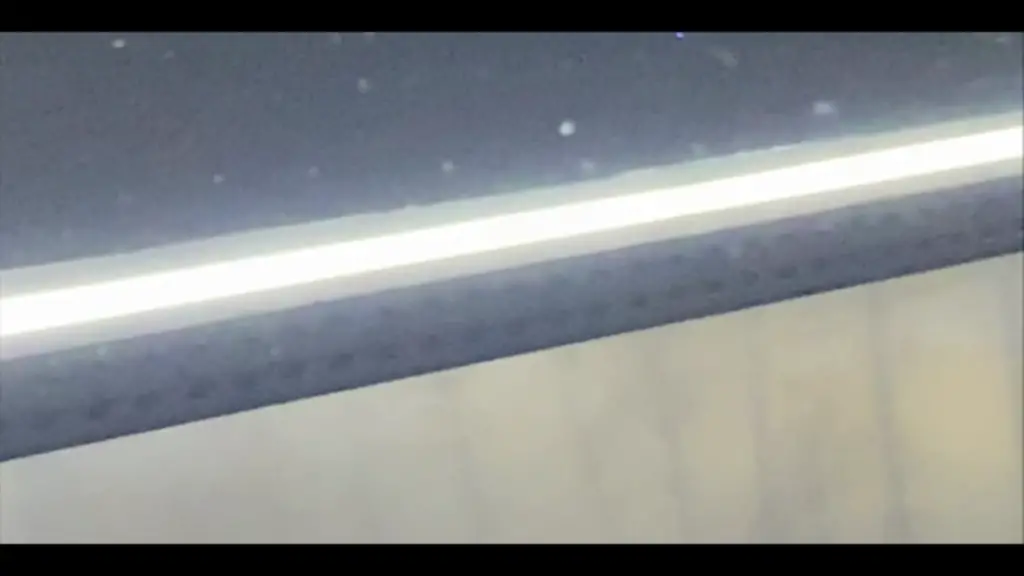 Adaptive Air Suspension:
This pickup truck comes with superior adaptive air suspension. You can raise and lower the suspension according to your needs. This also gives excellent ride quality.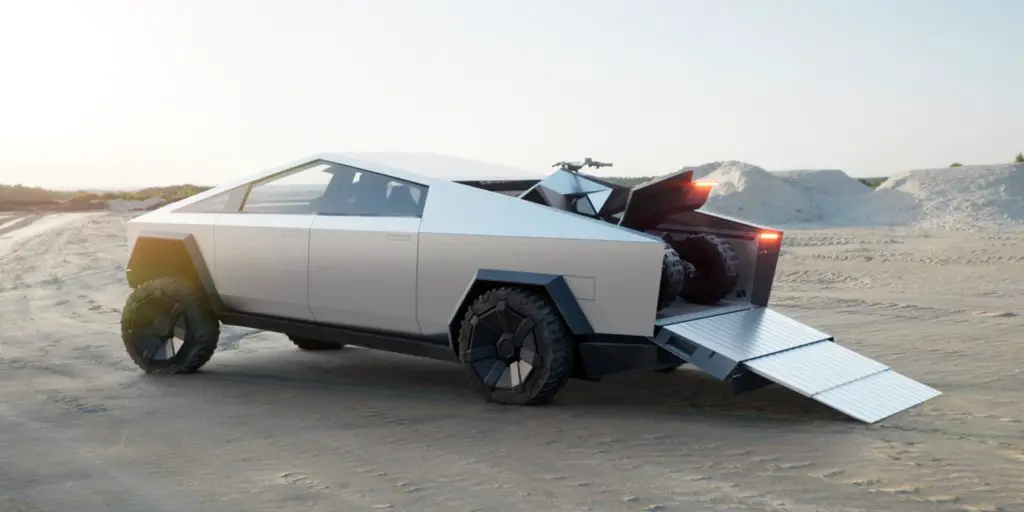 Rearview Mirror:
There is no glass rearview mirror on this CyberTruck. Instead, it has a display that works as a rearview mirror.
Low Fuel Cost of Tesla CyberTruck:
Electricity cost less than diesel. So the operating cost of this CyberTruck would be less compared to other conventional trucks. Here's an example of fuel cost comparison.
Let's assume we would drive 150,000 miles over the next 8 years.
2020 Ford F-150:
2020 Ford F-150 Regular Cab has an EPA estimated gas mileage of up to 20 city / 26 highway. In real-world scenarios achieving this gas mileage would be tough. However, let's assume it's gas mileage is 22/gallon combined.
Diesel price/gallon: $3.40 (Averaging next 6-7 years of diesel price)
To drive 150,000 miles we need 150,000/22 = 6,818.18 gallons of gas.
Total Cost: 6,818.18 gallons x $3.40/gallon = $23,181
Tesla CyberTruck:
Tesla Model 3 can go 4 miles/kWh. Tesla Model S Long Range can go 3.7 miles/kWh. As far as we know Tesla CyberTruck is more efficient than Model S. However, we take a low range for Tesla CyberTruck and assume it can achieve 3.7 miles/kWh.
Total kWh needed to drive 150,000 miles is 150,000 miles / (3.7kWh/miles) = 40,540.54 kWh.
The price of kWh electricity greatly varies. However, at a supercharger, Tesla charges $0.28/kWh. [Source]
Total Charging Cost: 40,540.54 kWh x $0.28 = $11,351
So, we would save around $11,830 on fuel costs if we drive a CyberTruck for 150,000 miles.
Solar Panel on Tesla CyberTruck:
This CyberTruck also has an option to add a folding solar panel on top of the truck bed cover. This will recharge the battery at 15 miles/day rate.
Full Moon Roof:
In a traditional pickup truck, you have to pay extra to get a tiny moon roof. Not true for Tesla CyberTruck. The whole roof of the Tesla pickup truck is made of shatterproof armor glass, just like the Model 3.
Million Mile Motor:
Tesla has developed a motor that lasts a million miles. These motors are currently in production and are used in Model 3, Model S, and Model X. Tesla CyberTruck will also carry these motors. So, for a million miles, you don't have to worry about any motor failures.
Tesla Battery Life:
It is being reported that without significant battery degradation, the Tesla battery can last for a million miles.
Infotainment System:
Tesla vehicles have the world's most advanced infotainment system. It has Netflix, Youtube, Hulu, DisneyPlus, Spotify, Arcade games, Google maps, Web browser, Caraoke (Karaoke for Cars), to name a few. These features not available in any other vehicle on the market.
Autopilot:
Autopilot is standard on every CyberTruck. It enables your car to steer, accelerate, and brake automatically for other vehicles and pedestrians within its lane. This driver assistance feature also includes blind-spot monitoring, emergency braking, and collision warning.
Full Self Driving:
You get the following features with full self-driving:
Navigate on Autopilot: automatic driving from highway on-ramp to off-ramp, including interchanges and overtaking slower cars.
Auto Lane Change: automatic lane changes while driving on the highway.
Autopark: both parallel and perpendicular spaces.
Summon: your parked car will come find you anywhere in a parking lot.
Recognize and respond to traffic lights and stop signs.
Automatic driving on city streets.
Regenerative Braking:
Tesla's vehicle comes with regenerative braking features. The vehicle motor becomes a generator and uses vehicle kinetic energy to generate electricity. This slows down the vehicle eliminating brake uses on most occasions. That's why Tesla brake lasts a long time than a traditional vehicle.
Charge Your Vehicle Anywhere:
You can recharge this CyberTruck at your home. On a road trip, recharge at Tesla SuperCharger, Destination Charger, or at your campground.
Camping Tips: For camping, Tesla CyberTruck is the best. Overnight recharge your pickup truck at an electric campground. This will save you $40-$50 dollars for the next day travel.
Built-in Dash Camera:
The CyberTruck has 8 cameras. These cameras works as a dashcam and recorded video is saved in a flash drive. No dashcam on the market can beat this because Tesla records all 4 sides of the vehicle.
Sentry Mode:
Sentry Mode is a feature that allows you to monitor suspicious activities around your Tesla when it's parked and locked. When suspicious motion is detected, your car will react depending on the severity of the threat. If a significant threat is detected, the cameras on your vehicle will begin recording, and the alarm system will activate. You will receive an alert from your Tesla app, notifying you that an incident has occurred.
No Engine Oil Change:
Tesla pickup truck is fully electric. It does not have any engine but an electric battery and motor. Say goodbye to engine oil and filter change.
Note: On a regular interval, the battery may need coolant replacement. But it is not as frequent as engine oil change.
Tesla Mobile App:
The Tesla mobile app can control almost everything of Tesla vehicles. The Tesla mobile app has the following features:
Keyless driving: Unlock and drive your car without your key.
Range status: Check current range, charge status, and receive charging complete notifications.
Climate Control: Remotely vent your roof or turn on the climate control system.
GPS location: Never forget where you parked again with GPS location features.
Valet Mode: Restrict access to your car by hiding all personal data from your touchscreen, limiting maximum speed and performance, and locking your front trunk and glove compartment.
Schedule Service: You can schedule service visits through the Tesla app.
PIN to Drive:
PIN to Drive allows you to set a secure four-digit verification that must be entered before your car is driven.
Dog Mode:
Dog mode is a climate control feature that leaves the car's air conditioning or heater on when owners leave their pets in their Tesla.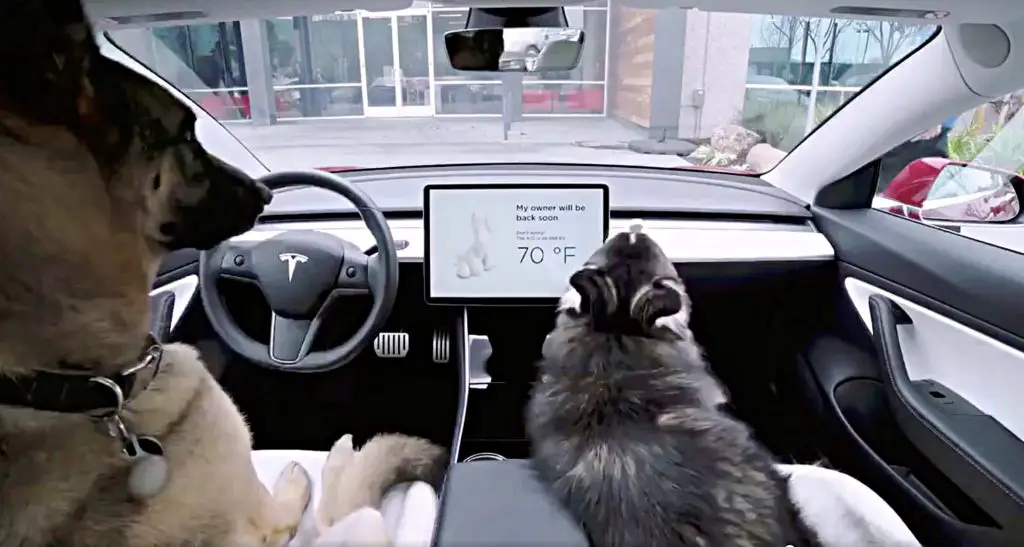 Tesla CyberTruck also comes with a Camper Mode.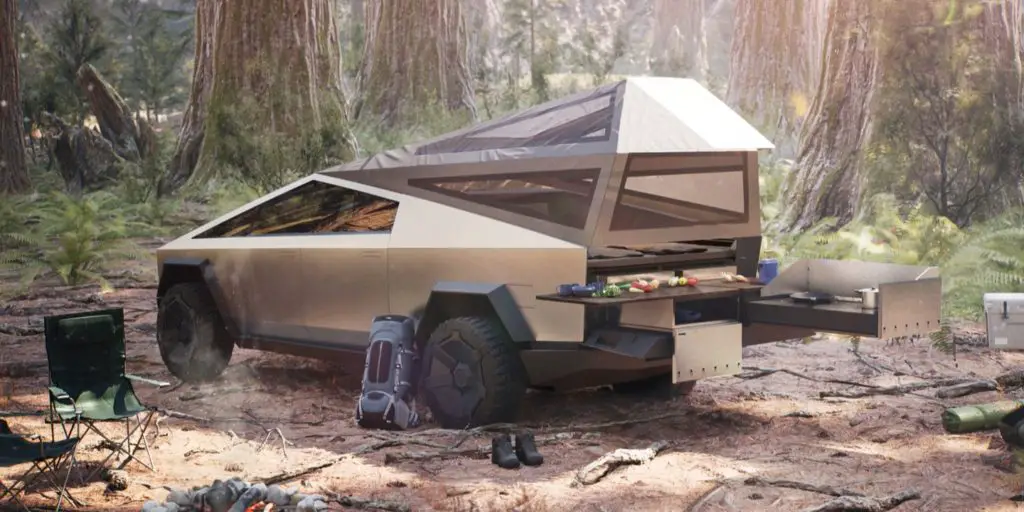 Where Can I Buy Tesla CyberTruck?
Tesla is not a traditional car company. It does not have any dealership. You can buy a Tesla pickup truck directly from their official website: https://www.tesla.com/cybertruck.
You have to order online, submit all paperwork through their website. No dealership negotiation or any hassle. Your pickup truck will be delivered to your nearest Tesla Delivery Center. You have to pick it up from there. Sometimes Tesla delivers its vehicle to customers' homes. So, depending on where you live, you could get your Tesla CyberTruck delivered to your home too.
7-Day Return Policy:
Tesla has a 7-day return policy. If you buy a Tesla CyberTruck but don't like it anymore, you can return it for a full refund. The only condition is you have to return it within 7 days, and the odometer reading should be less than 1,000 miles.
Cons of Tesla CyberTruck:
1. Design:
The design of this truck is very polarizing. According to many people, this DeLorean looking truck is ugly.
2. Size:
It's a big truck. In the US road, it's not a problem, but in Europe, Japan, it could be an issue.
3. Range:
Single Motor RWD has 250+ miles of range, and Dual Motor AWD has 300+ miles of range. On-road trip it could be very problematic. If you plan to haul your camping rig, it could severely affect the range of the CyberTruck.
4. Recharge during towing:
Towing anything on a long road trip may give you a bad experience. Every time you want to recharge your Cybertruck, you have to decouple your trailer from the CyberTruck. With a gas truck, it's not an issue. You can just pull up to the gas station. But the way most SuperCharger is set up, it's not possible for Tesla.
Conclusion:
We believe Tesla CyberTruck is amazing. No other pickup truck in the market can beat the specs of this truck. That's why we have decided to buy one.