Nowadays, charging an electric car is very easy. Electric charging stations are everywhere. Many people don't want to buy an EV thinking that charging could be a problematic issue. In this article, we have summarised all the ways you can charge an EV. We hope this article will remove all of your confusion and concern regarding EV charging stations.
Basics:
There are three types of electric car charging level:
Level 1:
Level 1 charging, also known as AC charging is a 120V/15amp standard wall plug using a J1772 connector. It provides 2 to 5 miles of range per 1 hour of charging.
Level 2:
Level 2 charging, also known as AC charging, uses 240V/50amp for residential or commercial charging using a J1772 connector. It provides 20 to 30 miles of range per 1 hour of charging.
DC Fast:
There are three types of DC fast charging systems, depending on the type of charge port on the vehicle. CCS-SAE, CHAdeMo, and Tesla Superchargers. DC Fast charging provides 60 to 80 miles of range per 20 minutes of charging. However, Only Tesla cars can use the supercharger network.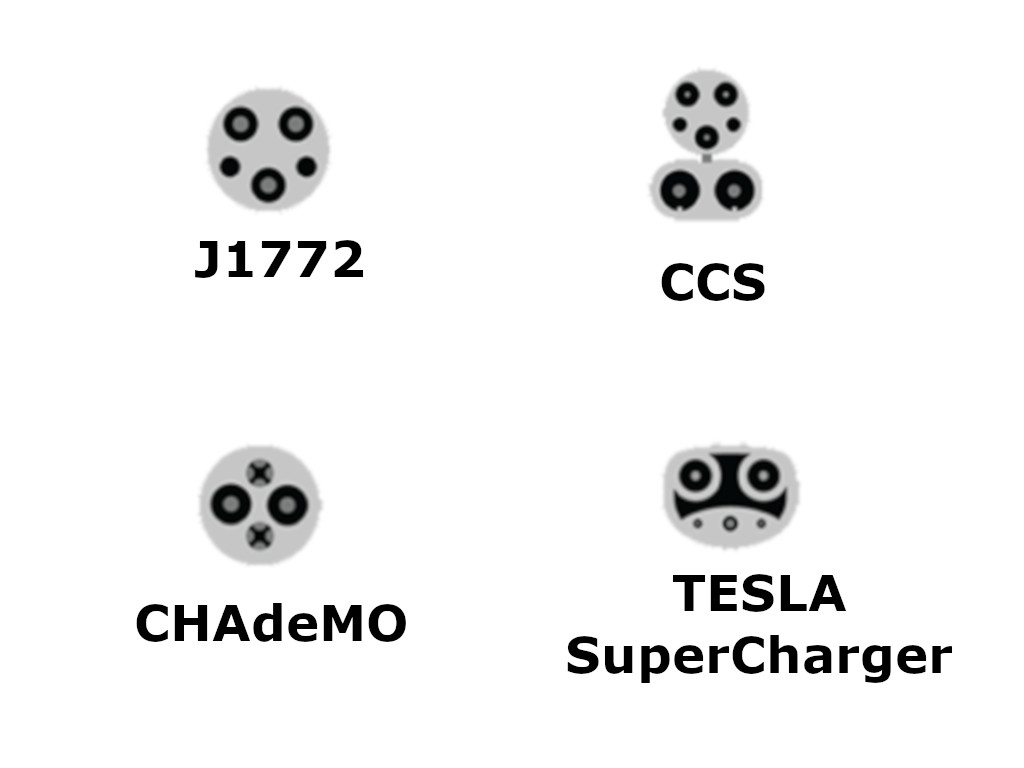 Note: CCS stands for Combined Charging System, and SAE stands for Society of Automotive Engineers.
Electric Vehicle Charging:
Below, we have discussed in detail where you can charge your electric car.
Charge at Home:
The best place to recharge your electric car is your home. If you have a 240V/50amp outlet, you can connect your electric vehicle to it. This outlet will charge your EV at a rate of 20-30miles/hour depending on your vehicle's make and model. If you don't have a 240V outlet, we highly recommend installing one. You also can plug your electric car to a 110V/15amp outlet. However, the charge rate at this 110V outlet is very low, 2-5miles/hour, depending on your vehicle's model.
Tesla Supercharger:
If you own a Tesla, then you can use the Tesla Supercharger network to charge your EV. Unfortunately, only Tesla vehicles can use this Supercharger network. Tesla has strategically placed this network throughout the world beside major highways. So, taking a cross country road trip is very easy in a Tesla. 
Note: Every Tesla Model S and Model X comes with complimentary free unlimited supercharging credit. This is a huge benefit. Making a cross country road trip in a Tesla Model S or Model S would save you thousands of dollars.
Tesla Destination Charger:
If you are a Tesla owner, you can charge your EV at a Tesla Destination Charger too. These chargers are placed at hotels, shopping malls, parking garages, condominiums, and different other locations. 
Electrify America:
Similar to Tesla supercharger, Electrify America also has hundreds of fast DC charging stations throughout the USA. All Electrify America stations support both CHAdeMO and CCS chargers. You may visit https://www.electrifyamerica.com/ to find out a charging station near you.
ChargePoint:
ChargePoint has hundreds of thousands of charging stations throughout the world.
Note: Some ChargePoint location charges 0 dollars for charging. However, this free charging comes as a complimentary benefit from some of the ChargePoint hosts such as Motels, States, etc.
Campgrounds:
Many campgrounds have electrical hookup facilities with up to 240V/50amp support. Generally, RVer's use this electrical hookup to run AC, lights, TV's in their RV. So, if you have an electric car, you can recharge here overnight. As a starter, search on google for KOA (Kampgrounds of America) for campgrounds.
Other Charging Networks:
Blink Charging
EVgo
Greenlots
Webasto
For Canada Only:
BC Hydro EV
Flo
Electrify Canada
myEVroute
Petro-Canda
Europe Only:
This two website is very helpful to find out any charging locations throughout the world.
Most Frequently Asked Questions: