Expedia is one of the most popular online travel agencies (OTA) and always has sweet deals.
They also sell one of the cheapest flights, hotels, and cruise deals. 
This article discusses everything you need to know about refunds on Expedia so that you can become an informed, knowledgeable buyer and avoid surprises at the last moment.
Expedia sells travel protection insurance, claiming that it will refund you in full if you cancel your flights, hotels, or other packages. However, there are some severe caveats to that Insurance. We have discussed that in detail at the end of this article.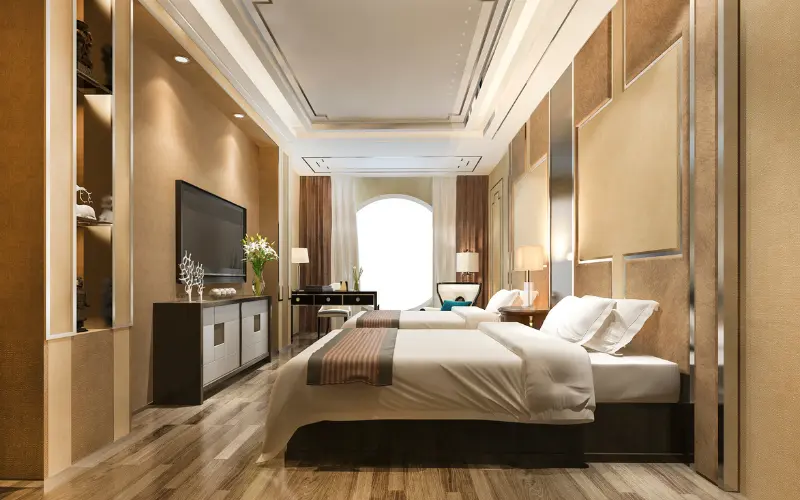 Are all Expedia Flights Refundable?
All Expedia flights are refundable within 24 hours of your flight confirmation. After this period, an individual airline cancellation policy will be applied for refund status.
If you purchased a refundable airline ticket, the airline would refund you money, but they will cut cancellation fees. But if you bought a non-refundable ticket, the airline will not give you your money back.
However, in some cases, Expedia will help you cancel a non-refundable ticket and get you flight credit, which you can use on future flights with the same airline. But you can't do this online. You have to call Expedia. 
Remember that Expedia travel protection will not refund your money in most scenarios. They have strict criteria under which conditions you can claim a refund which we discussed at the end of this article.
Are Expedia Hotel Reservations Refundable?
Expedia hotel reservations are fully refundable up to 48 hours before your stay. But there are some caveats.
There are two types of hotel reservations on the Expedia platform. It will show while you book your hotels.
Refundable Booking
Non-refundable Booking
While you make a hotel reservation on Expedia, ensure the hotel shows a "Fully Refundable" message. If this message isn't showing, the hotel room is non-refundable, and Expedia will not return your money even if you cancel the reservation in the future. 
The hotel rooms with a "Fully Refundable" message will refund your reservation money if you cancel at least 48 hours before your stay. If you are within the 48 hours time period prior to your stay, even the Fully Refundable hotels will charge you one night's stay fee with taxes and fees.
Moreover, hotels will not refund your entire reserve money. They will cut cancellation fees. Sometimes it could be up to your hotel room fare. 
Unlike airlines, the Hotel booking refund policy is dictated by individual hotels. Therefore, the cancellation fees and policy will change from hotel to hotel.
Are Expedia Packages Refundable?
Expedia vacation packages are refundable within the first 24 hours of your booking. After that, an individual cancellation policy will be applied to your airline, hotel, car rental, cruise, and activity provider.
Every airline, hotel, and cruise will charge a cancellation fee which will be passed on to you. If you cancel the entire vacation package, these cancellation fees will add up to a substantial amount of money.
Sometimes, you can cancel the entire package; otherwise, you must cancel hotels, airlines, cruises, or activities individually.
Are Expedia Points Refundable?
Expedia points are fully refundable. If you used your points to book your flights or hotel, Expedia would refund every point after cutting cancellation fees in points.
For example, if you used 1500 points to book a flight, and you cancel it, Expedia will cut cancellation fees from the point you owe back. If the fees come up to 300 points, you will get back only 1200 points on your Expedia account.
Does Expedia Refund Canceled Flights?
Flight cancellation by airlines has become a norm nowadays. Every day, American Airlines, Delta, JetBlue, and other airlines cancel thousands of flights for various reasons.
Expedia will fully refund you if your flights get canceled by the airlines. They will process the refund and return your money to the card that you used to pay. 
Typically it takes 7 days to process the refund, but your bank can take a few more days to credit the money to your account.
If you used points to book your flights, Expedia would return every point to your account after the flight's cancellation by airlines.
Does Expedia Refund if Price Drops?
Expedia will refund the price difference if the current price of your airline ticket drops. However, you must purchase the "Price Match Promise" add-on on your itinerary to get the benefit.
Typically the "Price Match Promise" costs $5 to $35 depending on flights and country and is valid from 120 days prior to your flights to 6 hours before your flight's departure.
If you add the "Price Match Promise" add-on on your flight, you don't have to do anything by yourself. Expedia will automatically check prices on your flight every 30 minutes and refund you the difference if it drops. 
However, Expedia will only refund the difference after you complete your flights.
There are also a few restrictions. One of them is if the flights you are traveling on are full, you will not get any refund. 
Moreover, the price drops must happen at the same airlines, same itinerary, same time, and exact date. If another airline gives a lower fare, Expedia will not refund you any difference due to price drops.
You have 24 hours to cancel the "Price Match Promise" add-on. After 24 hours, Expedia will not refund this add-on fee if you cancel. 
Is Expedia Travel Protection Refundable?
If you purchase Expedia Travel protection insurance, you have 24 hours to cancel the plan for a full refund. After this time period, Expedia will not refund your money.
Beware of Expedia Travel Protection Insurance
All Expedia insurance claims go through AIG (American International Group) insurance company. Expedia itself doesn't process those insurance claims.
Therefore, even though you are purchasing the Insurance through Expedia, you must file the claim through the AIG website. 
There are several severe limitations on these Insurance and what you can claim. At the time of purchase at Expedia, they don't make it clear, which leads to frustration and lost money. 
The entire Expedia insurance is convoluted. Here's how-
Expedia uses AIG to insure your trips (if you buy travel insurance.) 
AIG goes to National Union Fire Insurance Company of Pittsburgh, Pa., a Pennsylvania Insurance Company, to underwrite those policies.
National Union Fire Insurance Company is registered in Pennsylvania but headquartered in New York at 175 Water Street, 15th Floor, New York, NY 10038. 
Expedia's Insurance will only refund you if only the following criterion meets.
If you, your immediate family member, or your travel companion becomes seriously ill or injured and requires hospitalization. You have to submit a certificate from your physician to prove your claim. AIG will call the hospital or your physician directly to confirm your claim. AIG will deny your claim if the hospitals don't pick up the phone.
You or your travel companion are subpoenaed or asked to serve on jury duty. 
While on the way to the airport or hotel, if you or your travel companion gets into a severe accident, Expedia will process your refund. But you must prove it with a police report.
You lost your job before the travel could start, provided that you were employed for more than one year at your job. In this scenario, AIG (Expedia) will process your refund claim.
Due to tornados, hurricanes, or other natural events, your upcoming hotel becomes inaccessible and inhabitable.
You or your travel companion lost the passport which is required for travel. In this scenario, you must submit a police report with your claim to get a refund.
Expedia insurance will deny your claim if your injury is a non-emergency and doesn't require emergency hospitalization.
As you can see, the Expedia travel insurance and its related claim criteria are very strict and limited in nature. Mainly in six scenarios, they will refund your ticket. Otherwise, they will deny your claim and will not refund you.
For the majority of people, these scenarios will never occur. Thus, Expedia's travel protection insurance is nothing but a waste of money.  
Will Expedia Refund Non-Refundable Airlines and Hotels?
Expedia can help you to get travel credits from non-refundable airlines. However, to get the travel credit, you must call Expedia customer care. 
They will cancel the flights on your behalf and give you a travel credit. Under no circumstances will Expedia give your money back on a non-refundable airline ticket.
In the case of non-refundable hotels, however, Expedia will not refund you. But you can contact Expedia for possible alternatives. 
Sometimes, they can help you get your money back if someone else books your room. But remember that Expedia will charge you a fee for the service, and the refund money will be negligible.