The Galaxy Z Flip is a piece of art. It's beautiful. We have been using this phone for several months and found that this phone attracts people's attention. It's because many people don't know that a folding phone exist. And those who do, haven't seen one in real life. We love our Galaxy Flip and encourage others to buy one. However, here we are going to illustrate all the features and issues of the Galaxy Z Flip. So that you can make an informed decision before you make your Z Flip purchase.
Table: Here are the full specifications of the Z Flip 5G.
| | |
| --- | --- |
| Features | Z Flip Specifications |
| SIM | One Nano-Sim, One eSIM. |
| Flexible Display | AMOLED 1080 x 2636 pixels (425 PPI). |
| Cover Display | Super AMOLED 112 x 300 pixels.  |
| Processor | Octacore Snapdragon 865+. |
| RAM | 8 GB. |
| Internal Memory | 256 GB. |
| GPU | Adreno 650. |
| External SD Card Port | No. |
| Main Camera | Dual 12 MegaPixel (MP). |
| Selfie Camera | 10 MP. |
| 3.5mm Headphone Jack | No. |
| Wireless Charging | Yes. 9W. |
| Reverse Wireless Charging | Yes. |
| Fast Charging | Yes. 15W. |
| Battery | Li-Po 3300 mAh. |
| Removable Battery | No. |
| Fingerprint Sensor | Yes. |
| Waterproof | No. |
| Dustproof | No. |
| USB | Type C 3.1. |
| USB On-The-Go Support  | Yes. |
| OS | Android 10, One UI 2. |
What's in the Z Flip box.
The Galaxy Z Flip has two versions. Z Flip LTE and Z Flip 5G. The LTE version comes with the following accessories.
One USB-C headset.
Two pairs of ear tips in different sizes.
One OTG adapter.
One 15W Travel Adapter.
SIM ejector tool.
One USB-A to USB-C cable.
One Clear cover.
However, the galaxy Z Flip 5G comes without any clear cover, USB OTG adapter, and Headphone. So, if you don't need a 5G phone, then we suggest you order the LTE Z Flip. Not only will you get extra free accessories, but you will also save $150 on the purchase price. However, other than this, there is no difference in functionality and features between the LTE and 5G versions.

Z Flip free screen protector:
Samsung ships every Z Flip from the factory with a free pre-installed screen protector. Samsung strongly suggests that you should not remove this screen protector by yourself. Doing so may damage the flexible screen. Instead, take your Z Flip 5G to a Samsung authorized repair technician to remove or apply a new screen protector. Moreover, only use a screen protector that is made out of Thermoplastic Poly Urethane (TPU). It is a flexible soft material and perfect for flexible display. 
However, keep in mind that the Z Flip has a plastic polymer covered screen with glass underneath. It is a fingerprint magnet and not easy to clean.
Z Flip Headphone Jack.
The Galaxy Z Flip does not have a 3.5mm headphone jack port. However, you don't need one. Samsung ships every Z Flip LTE phone with a USB-C headset and several ear tips in different sizes. Unfortunately, the 5G version Z Flip does not come with a USB-C headset. So, either you need to buy a USB-C headphone or a USB-C to 3.5mm headphone jack adapter.
Z Flip has reverse wireless charging.
Z Flip supports both wireless charging and reverse wireless charging (power share). Using the wireless power share feature of the Z Flip 5G, you can recharge another device that supports wireless charging.

Samsung Financing to purchase the Z Flip 5G.
Samsung offers 0% APR for 24 to 48 months to purchase the Z Flip if you buy it from Samsung.com. However, you need to pay the full amount within the specified months you agreed during purchase. Otherwise, Samsung would charge you a 29.99% APR interest on your purchase price.
Z Flip supports HDMI.
The Z Flip has built-in MHL support. With a USB-C to HDMI cable, you can mirror your phone screen in a TV, Monitor, or a Projector. Follow these three easy steps.
Connect the USB-C end of the cable to your phone.
Connect the HDMI end of the cable to the input port of the TV, Monitor, or Projector.
Switch the input signal source of the TV or Monitor to HDMI.
Now enjoy movies, music, etc. on the big screen.
Warning: Don't root or install a third-party OS on your Galaxy Z Flip. It will void your warranty.
Free offers with Z Flip:
Samsung offers 4 free months of YouTube premium and 6 free months of Spotify premium with every Galaxy Z Flip purchase. Spotify premium allows you to listen to ad-free unlimited music and download music for offline listening. YouTube premium will enable you to watch YouTube videos without ads. Moreover, you can also download high-quality videos on the YouTube app for offline viewing. Moreover, if you buy a Microsoft MOGA controller, Samsung will give you 3 months of Xbox Game Pass Ultimate for free.
How many times can we fold the Z Flip?
According to Samsung, we can fold the Z flip 200,000 times. It means we can open and close this phone 100 times a day for 5 years. 
Z Flip has dual SIM support.
The Z Flip supports one nano-SIM and an eSIM (embedded SIM). If you insert a nano-SIM and activate an eSIM, you can have two phone numbers or service providers. It is beneficial for those who want to carry only a single device but wants two phone numbers. One for business and one for personal use.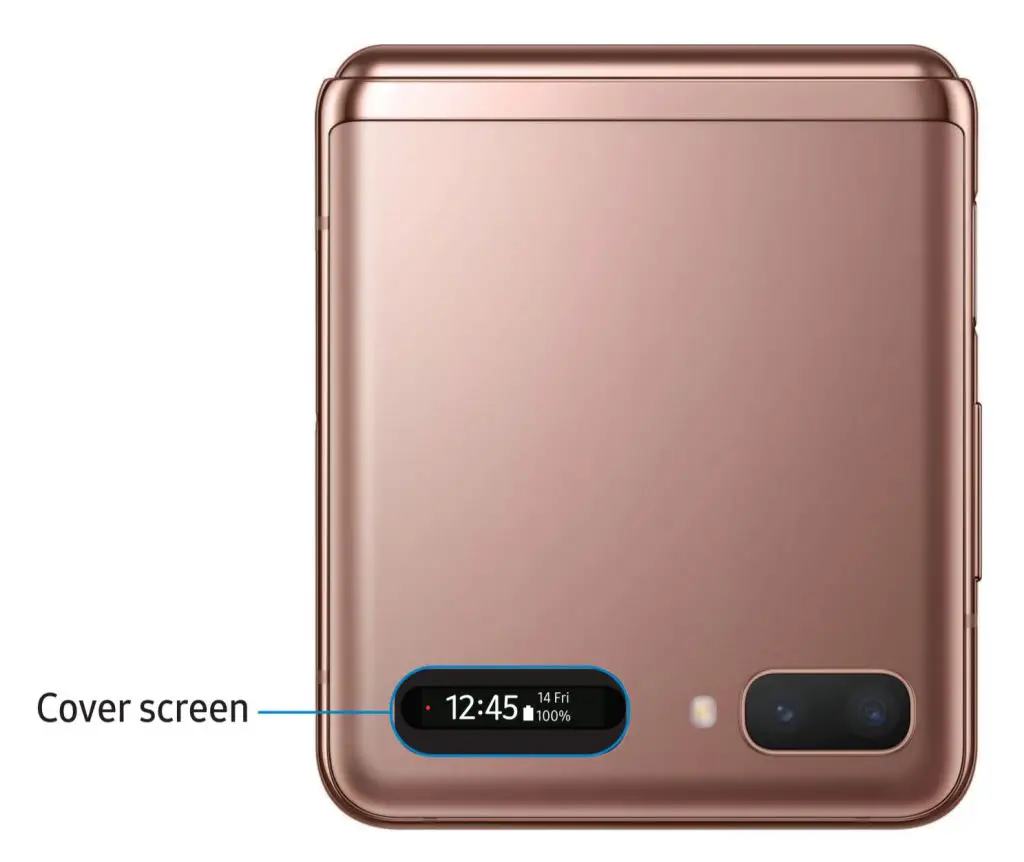 Z Flip front screen is tiny.
The Z Flip front screen or the cover screen is very small. It's only 300 x 112 pixels. So, the functionality of this screen is minimal. However, we can accomplish the following task on the cover screen.
Viewing date and time:
If the cover screen is off, double-tap on the screen. Alternatively, you can press the Side button once.
Viewing notifications:
Whenever you receive a new notification, it will appear on the cover screen. To view the notification, swipe right on the clock and click on the notification icon.
Controlling music:
If music is playing, the music controller will appear on the cover screen. To bring out the music controller, swipe left of the clock.
Take Selfies:
Even when the Z Flip is folded, you can take photos with this device. First, double-tap on the Side keys. The camera app will launch on the cover screen. Now, press the volume key button to take a selfie.
However, we wouldn't be surprised if Samsung decides to add a larger cover screen on the next-generation Z Flip.
Z Flip Expandable Memory:
The Z Flip does not have any expandable memory card slot for you to insert an SD card. But there's a way to use an external memory card with the Z Flip. You can attach your USB OTG adapter(comes free with Z Flip LTE) to the Z Flip's USB-C port, and connect a USB card reader to the OTG dongle. Now, insert an SD card into the card reader. This way, you can use an expandable memory card with your Z Flip when necessary. 
Z Flip Dex Support:
The Z Flip does not support Samsung Dex. It's only a software issue, not a hardware issue. So, it's possible that Samsung could release an update later and add this Dex support to their Z Flip lineup.
Z Flip is not water and dust resistant.
The Z Flip does not have any IP rating. So, it is not waterproof or dustproof, not even water repellent like the Motorola Razr 5G. So, you have to be careful before taking this phone to the beach or near a swimming pool.
Z Flip Dead Pixel Issues:
We found numerous reports from our readers that the Z Flip flexible screen develops the dead pixel issues. Here is a photo of the dead pixel.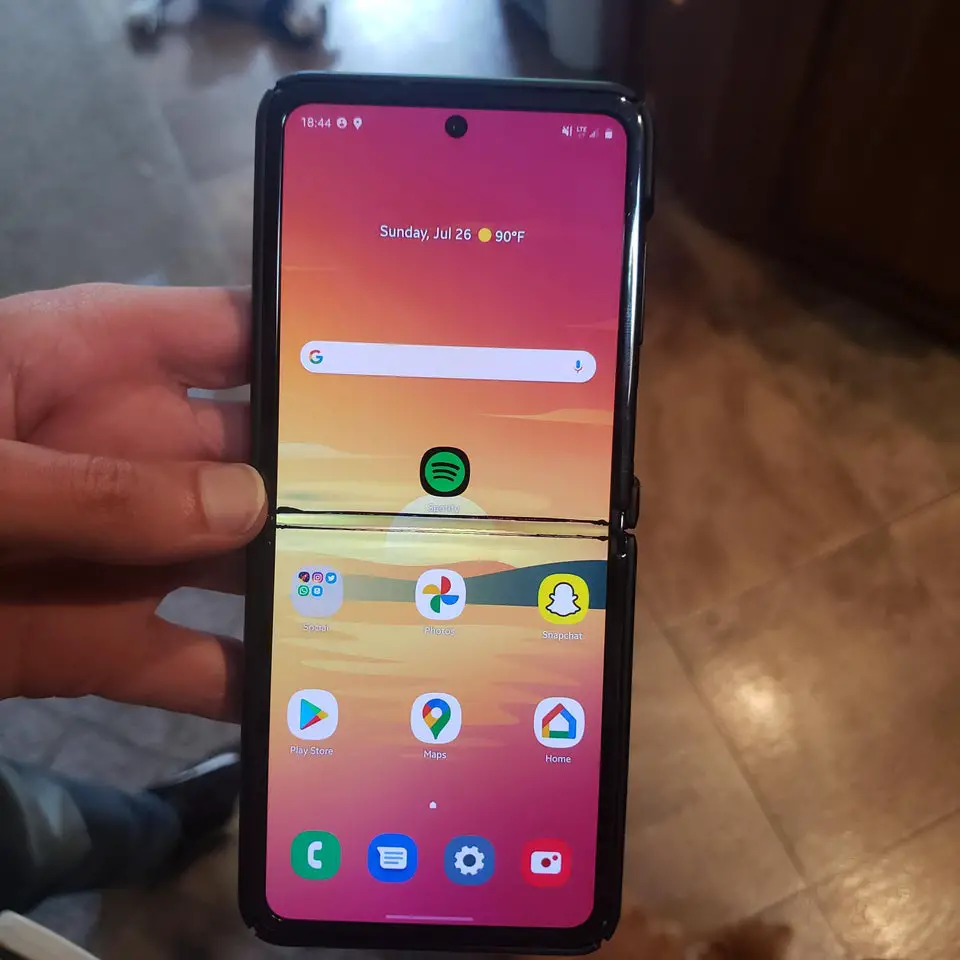 It arises at the phone's crease most of the time, but sometimes it may appear at other locations of the phone's screen. If this issue arises and you still have a warranty, immediately contact Samsung customer service or your phone seller and ask them to replace your device. It is a common issue, and this dead pixel issue may get worse over time because the panel could be faulty.
Z Flip makes noise:
We got multiple users reports that the Z Flip makes a clicking noise while opening or closing the phone. We also got numerous reports that the Z Flip makes sticky noise while moving fingers over the crease. Here is a video of the crease noise.
This problem arises when the glue behind the Z Flip flexible screen becomes loose. According to our readers, Samsung refuses to fix this issue at its service centers claiming that it's only a cosmetic issue, not a functional issue. So, if your Z Flip develops this issue, Samsung may not fix it even if your phone is under warranty. Moreover, we are not sure how the Z Flip will hold up after several years of use.
Cautions regarding Samsung Care Plus.
During the purchase or within 60 days of device activation of a new Samsung phone such as Z Flip, you can enroll in the Samsung Care Plus program. Under this program, Samsung would repair your damaged phone due to drops, liquid spills, or hardware failure due to normal wear and tear. Moreover, Samsung promises a $29 screen replacement under this warranty. Care+ also extends the 12 manufacturer warranty.
However, remember that if you cancel your Care Plus subscription, you won't be allowed to enroll the same Samsung device into the Care Plus program again.
Z Flip 5G Battery Issue:
Samsung is terrible at software and battery optimization. Due to this, the Z Flip has a poor battery life on the 5G network. We know different people use their phones differently, but we found that the Z Flip has 5-6 hours of battery life. Moreover, the device becomes very hot if we play video games. We also found that fast charging makes the phone hot. It's irritating. We have used numerous iPhones, and those phones never get hot. 
Z Flip 5G camera autofocus issue:
If your Z Flip camera has an autofocus issue, then it's a camera hardware problem. Contact Samsung to replace your camera module. It is covered under the manufacturer's warranty as long as your device has no visible damage. 
How to take a screenshot in the Z Flip?
To take a screenshot in the Z Flip, simultaneously press the "Side Key" and "Volume Down Key."
How to turn off the Z Flip?
To turn off the Z Flip, simultaneously Press and Hold the "Side Key" and "Volume Down Key." Alternatively, open the notification panel and tap on the "on-off power" icon.

How to force-restart the Z Flip?
If your Z Flip is frozen and unresponsive, simultaneously Press and Hold the "Side Key" and the "Volume Down Key" for more than 7 seconds to restart it.
Does Z Flip have a fingerprint sensor?
Yes. The Z flip has a fingerprint sensor on the side of the phone. It is located on the "Side Key."
Does the Z Flip come with a case?
Z Flip has two versions depending on the region. Z Flip LTE and Z Flip 5G. The LTE version comes with a clear case in the box; however, the 5G version does not.
Troubleshooting: Flex Mode Stopped Working.
We found that if the device is too hot, it won't run two apps simultaneously. Let the phone cool down for a little bit. The issue will fix itself.
So the final question is:
Is the Galaxy Z Flip worth buying?
The Z Flip does not have a stereo speaker. The mono speaker isn't great for watching videos; the 60Hz screen will be noticeable if you are coming from 120Hz, you will also notice the much smaller battery. Another problem is the plastic-coated glass; it scratches easily and looks torn up in sunlight at some angles. If you're looking for power, don't go with the Z Flip. It's more like an upper-tier mid-range phone.
Conclusion:
This phone looks so cool, and it's gorgeous. However, we still don't know how reliable the Flip 5G will be in the long term. The technology is too new to know how long the hinge will last without loosening up or whether the flexible screen will fail.
Sources:
https://www.samsung.com/us/mobile/galaxy-z-flip/