Some people love Tesla; others despise Elon Musk and hate Tesla. We are neither one of them. We are here to present facts to give you unbiased Tesla information.
Before writing this article, we have interviewed more than 45 Tesla owners. Some of them have multiple Tesla's. We asked them what they love and what they hate about their vehicle. This article is a summary of their real-life experience.
The pros of Tesla cars are its design, lack of dealership, fuel cost savings, low depreciation, supercharger stations, vehicle safety, self-driving technology, advanced infotainment systems, and software.
The cons of Tesla cars are its price, high repair cost, longer repair time, lack of service center, build quality, lackluster interior, low towing capability, and battery degradations.
Learning about all the advantages and drawbacks of owning a Tesla will make you an informed buyer. Let's elaborate.
Pros of Tesla vehicle:
These are the advantages of Tesla.
Tesla's are beautiful:
Tesla cars are beautiful and minimalistic both inside and outside. Elon Musk says Tesla's are computers on a wheel. No other production vehicle on the market has a minimalistic design like Tesla. Every Tesla vehicle comes with a stunning glass roof. However, we believe Cybertruck is big and ugly. 
No dealership:
Tesla takes orders online on its website and sells cars directly to consumers.  They don't have a dealership. So, you don't need to visit any dealer. It's great. 
Dealers have a terrible reputation for a reason. 
First, they mistreat their customer. 
Second, the salesperson, the finance manager, always tries to scam innocent customers. They lie to upsell various products.
When you buy Tesla, you don't need to go anywhere. From your home, you can place your order and submit all the necessary paperwork online. After paperwork and financing are done, Tesla would deliver your car to your preferred location within a few weeks. Depending on where you live, Tesla also can ship your vehicle to your home or at your office.
You can learn more about Tesla delivery options here – https://www.tesla.com/support/delivery-options
Savings on fuel cost:
Tesla vehicles are very efficient. It costs less to operate a Tesla than a gasoline vehicle. To give you an idea, let's compare the Toyota Camry vs. SR+ Model 3 driving cost (gas vs. electricity)
Though Toyota claims that a Camry has a gas mileage of up to 29 city / 41 highway, we only get max 22 combined (I drive one). Let's be generous and take 25 mpg. To drive 150,000 miles, we need a total of 150,000/25 = 6,000 gallons of gas. Each gallon of gas costs $2.8/gallon (Averaging present + future five years gas prices. In California, the current gas price is over $5/gallon). So total costs of gas, 6000×$2.8 = $16,800.
On the other hand, a fully charged Model 3 SR+ can go 250 miles. But we assume it is 240 miles. For 150,000 miles we need a total 150,000/240 = 625 Charge. The Model 3 SR+ has a 50kWh battery. So, each full charge costs 50kW x $0.28 (price at a supercharger) =  $14. So, the total charging cost over 150,000 miles is 625 x $14 = $8750.
So, over the lifetime of Model 3 SR+ ownership, Tesla would save you $16,800 – $8,750 = $8,050. Moreover, if you recharge your Tesla at your home, you could save more because of lower electricity costs. So, though you may pay a little more initially for your Tesla purchase, you can save thousands afterward.
Supercharger stations:
Tesla has strategically placed thousands of fast-charging stations throughout the world. If you are on the market for an electric vehicle, we suggest you buy a Tesla. Because only in a Tesla you can make a cross country road trip without any problem.
There are other charging networks too, for example, Electrify America. The benefit of Tesla is that you can use both the Supercharger network and Electrify America. However, if you buy another electric vehicle, you can't use the supercharger network.
Furthermore, Supercharger is cheap compared to Electrify America. Because Elon Musk said that these Superchargers would never be a profit center for Tesla; moreover, if you buy a Model S or Model X, Tesla will give you unlimited free supercharging credit. These credits alone will save you more than $10,000 over the vehicle's lifetime.
Tesla cars depreciate slowly:
When you drive off your vehicle from a dealer parking lot, it is common knowledge that it instantly loses 20% of its value. Over time, it depreciates more. There are vehicles such as BMW, Nissan leaf that depreciate like crazy. But not Tesla.
Tesla's are notorious for holding its value. You can't even buy a wrecked Tesla cheap. You can visit this auction page to get an idea – https://www.auctionexport.com/en/cars/tesla
As a Tesla owner, it is beneficial because you will get good resale value if you ever want to sell your Tesla.
Superior performance:
No other car can match the performance of a Tesla vehicle. Tesla owners say that even a test drive in a Tesla would ruin gas cars for you for life. Gas cars would seem boring. Moreover, no other gas car has instant acceleration and performance that of Tesla.
Charge at home:
Another benefit of owning a Tesla electric vehicle is that you can charge your car at your home. You don't need to revisit gas stations. You can recharge your vehicle overnight at your home. It would save you time and money.
Referral program:
Tesla has a referral program, where if you encourage someone to buy a Tesla using your referral code, Tesla will give you and the new owner a 1,000 miles free supercharging credit. We have seen owners who have YouTube channels and referred hundreds of buyers to Tesla. According to our calculation, each referral amounts to roughly $100. So, if you encourage 10 people to buy a Tesla and use your referral code, you are indirectly earning $1,000.
You can read more about the Tesla referral program here – https://www.tesla.com/support/referral-program
Range:
If you are on the market for an electric vehicle, then you should buy a Tesla. No other EV on the market has the range and efficiency similar to a Tesla.
Tesla App:
You don't need a car key to lock or unlock your vehicle. Tesla has a mobile app that allows its owners to control their Tesla vehicles. The Tesla app also has the following features –
Keyless driving: You can lock, unlock, and drive your Tesla without your key.
Range status: You can check the current range, battery charge status and receive charging complete notifications on your phone via the Tesla app.
Climate Control: You can remotely turn on the climate control system of your Tesla.
GPS location: With this GPS location feature, you can track your Tesla anywhere in the world. So, in case someone steals your car, you can see on Maps where your vehicle is.
Valet Mode: Using the valet mode, you can restrict access to your car by hiding all personal data from your touchscreen, limiting the maximum speed and performance of your Tesla, and locking your front trunk and glove compartment.
Schedule Service: You can schedule service visits to a Tesla Service Center through the Tesla app.
You can initiate an OTA update from your phone.
You can review sentry footage on the Tesla app.
Honk horn.
Open and close windows.
Open Frunk and Trunk.
And many more things.
Tesla has "Sentry Mode":
Every Tesla has a sentry mode. No other vehicle on earth has a feature like this. Sentry Mode adds a unique layer of protection to Tesla vehicles by continuously monitoring the environment around your car when it's left unattended. When enabled, Sentry Mode enters a "Standby" state, like many home alarm systems, which uses the car's external cameras to detect potential threats. If a minimal threat is detected, such as someone leaning on a car, Sentry Mode switches to an "Alert" state and displays a message on the touchscreen warning that its cameras are recording. 
Suppose a more severe threat is detected, such as someone breaking a window. In that case, Sentry Mode switches to an "Alarm" state, which activates the car alarm, increases the brightness of the center display, and plays music at maximum volume from the car's audio system. If your Tesla switches to an "Alarm" state, you will also receive an alert on your Tesla mobile app, notifying you that an incident has occurred.
OTA Software update:
No other car manufacturer has a feature like this. The Over The Air (OTA) software update is revolutionary for cars. This way, Tesla can continuously add new software features to its vehicle and improve it.
Self-driving technology:
Various companies are working on perfecting the self-driving technology. Different companies have a different approach. Tesla is trying to solve the self-driving technology with vision. So, every vehicle that Tesla sells has all the required hardware necessary for a fully self-driving car. Though Tesla has not achieved Level 4 autonomy, these Tesla still can do some amazing things. Few of them are:
A Tesla can steer, accelerate, and brake automatically for other vehicles and pedestrians.
Tesla cars can do automatic driving from highway on-ramp to off-ramp, including interchanges and overtaking slower cars.
While driving on the highway, it can change lanes automatically.
A Tesla vehicle can park itself. It can accomplish both parallel and perpendicular parking.
Tesla vehicles can stop at a red traffic light and go on green lights. It also stops at the stop sign.
Tesla is continuously improving the self-driving software. So, over time they will add more features and release OTA updates.
Teslas are one of the safest vehicles on earth:
Every Tesla vehicle has achieved an NHTSA 5-star safety rating in every category and subcategory with its energy absorbent crash structure, rigid passenger compartment, excellent side impact protection. Moreover, Tesla's are also one of the lowest rollover risk cars on the road.
According to Elon Musk, Tesla designs their car to be the safest vehicle on earth. The Tesla owners we talked to agreed with that. 
PIN to drive:
Tesla vehicles have many driver features. PIN to drive is one of them. If you enable this feature, then no one can drive your Tesla unless the PIN is entered before the vehicle is put into the drive mode. So, even if someone steals your car key, they can't drive off your Tesla if you have enabled it in your vehicle.
The most advanced infotainment system:
Tesla has the most advanced infotainment system in their car than any other vehicle on the market right now. Every Tesla has a giant screen in the middle of the console. This infotainment has all types of software.  For example, every Tesla has built-in Google Maps, Caraoke(Karaoke for cars), web browser, AM and FM Radio, Spotify, YouTube, Disney+, Netflix, Hulu, and other various apps.
Arcade games:
Every Tesla infotainment system has the following built-in arcade games.
Cuphead.
Super Breakout.
Centipede.
Missile Command.
Lunar Lander.
Beach Buggy Racing 2.
Fallout Shelter.
Asteroids.
Tempest.
360-degree dashcam:
Tesla has 8 cameras all around the vehicle. These 8 cameras also work as a dashcam and records continuously. No, other cars on the market have functionality like this.
Auto wipers:
Every Tesla vehicle has auto wipers feature. If you set your control to "Auto wiper," your vehicle wiper will operate automatically. If it rains, Tesla will detect it and turn on the wiper. It also controls the frequency of wipes, depending on how much it's raining. Moreover, when the wiper is on, your Tesla will automatically turn on the headlights because it's the law to turn on headlights if your wiper is on.
7-day return policy:
Tesla has a 7-day return policy, where you can return your newly purchased Tesla vehicle for a full refund. You can read more about the return policy here – https://www.tesla.com/support/tesla-return-policy
No other vehicle manufacturer would allow this. For them, once you take the vehicle out of the dealers' lot, they will never take it back.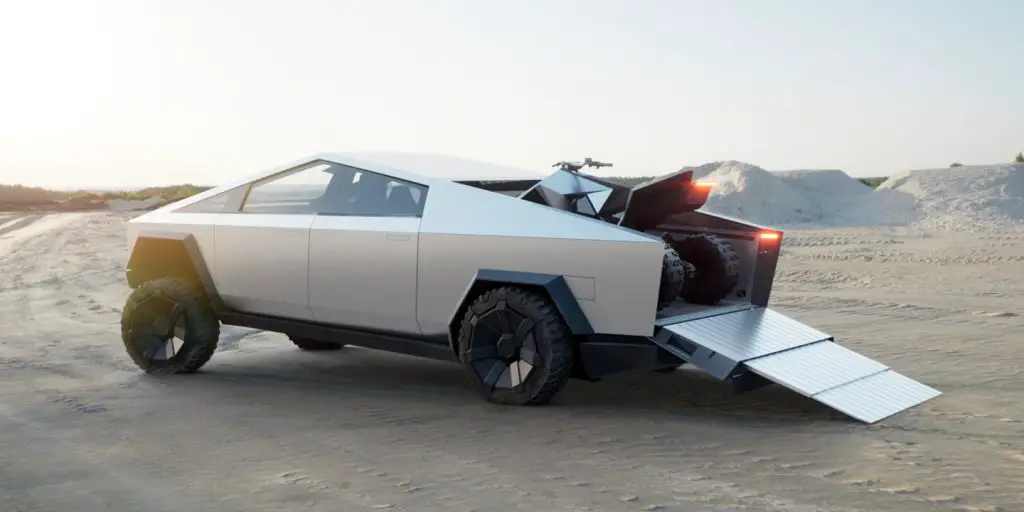 Cons of Tesla cars:
These are the drawbacks of Tesla's vehicle.
Tesla cars are expensive:
Price is the primary cons of Tesla cars. It's expensive. Even Elon Musk knows it, and that's why he promised to announce a $25,000 Tesla car in three years. However, we highly doubt it.
The lowest-priced bare bone Tesla is 250 miles (402 km) $38,000 Standard Range Plus Model 3. Other Model's price goes up to $200,000. These prices even do not include the cost of colors, wheels, premium interiors, and autopilot software.
Here is the price list of popular Tesla colors:
| | | | |
| --- | --- | --- | --- |
| Tesla Model | Red Multi-Coat | Silver Metallic | Solid Black |
| Model S | $2,500 | $1,500 | $1,500 |
| Model 3 | $2,000 | $1,000 | $1,000 |
| Model X | $2,500 | $1,500 | $1,500 |
| Model Y | $2,000 | $1,000 | $1,000 |
Price list of Tesla wheels:
| | |
| --- | --- |
| Tesla Model | Price |
| Model S, 21-inch Sonic Carbon Wheel | $4,500 |
| Model 3, 19-inch Sport Wheel | $1,500 |
| Model X, 22-inch Onyx Black Wheel | $5,500 |
| Model Y, 20-inch Induction Wheel | $2,000 |
Price list of premium Tesla interiors:
| | |
| --- | --- |
| Model | Black and white interior price |
| Model S | $1,500 |
| Model 3 | $1,000 |
| Model X | $1,500 |
| Model Y | $1,000 |
Price of Tesla Full-Self driving software is $8,000.
As you can see, Tesla cars are expensive.
Tesla body repair is costly:
An accident is something we don't want but happens. Sometimes, it is entirely the other driver's fault. If you get into an accident in your Tesla, the repair cost would be substantial, even for a minor repair. For example, a simple dent would cost you around $7,000. If you get sideswiped in your Model S, the bill could go up to $50,000. No, we are not exaggerating. Here is a list of repair costs other Tesla owners encountered after an accident.
You may visit this car auction website where they sell wrecked Tesla. If you look closely at the repair cost each of these Teslas, you will see that these Teslas cost more to repair than a new one.
Yes, we know that insurance will cover all the repair costs, but this leads to our next disadvantages of Tesla cars.
Insurance is expensive:
Insurance depends on various factors, such as the vehicle's make, Model, vehicle's price, purchased or leased, financed or purchased in cash, your age, driving history, locality, area, country, insurance provider, your credit history, etc. Nevertheless, the critical factor of insurance premiums is vehicles make, models, and price. 
Because of Tesla's high price and high repair cost, insurance for Tesla cars is significantly higher. We advise you that please visit some insurance company in your locality for a quote before making your final purchase.
Tesla body damage repair time is insane:
Not only the Tesla body damage repair cost is high, but also the time required to repair a Tesla is insanely long. For example, the famous Tech-Youtuber Marques Brownlee got into an accident. He took the car into a Tesla certified body shop. The body shop had all the required parts readily available. Still, it took more than 3 months to fix his Model S.
Marques is not alone. Every Tesla owner has expressed their frustration over this. Sometimes, it could take up to 6 months.
It is because Tesla only allows specific body shops to work on their car. Moreover, only Tesla sells body parts for their vehicle. So, after an accident, you have to find a Tesla certified body shop, then the body shop will order parts from Tesla, Tesla will ship those parts to the body shop, then the repair will start. Tesla has a bad reputation for taking too much time to ship repair parts to body shops. Sometimes they take 3 to 4 months. Your car would sit at the repair shop at those times, and you can't do anything to expedite the process.
Furthermore, if you live outside of the US and Europe and get into an accident, your repair time may be even longer. 
Several Tesla owners said they want their car to be totaled in an accident instead of little damage. Thus, they can get a new vehicle instead of waiting 4-6 months for their car to get repaired.
Tesla service center frustration:
Tesla does not allow its owners to repair or work on their vehicles. Except for adding washer fluid, you have to take your car into a Tesla Service center for all types of repair or maintenance. The problem arises here. 
First, there is a limited number of Service Centers in each state.
Second, you have to make an appointment to fix your vehicle. Sometimes, these appointments could be after months.
Each quarter, Tesla is selling hundreds of thousands of vehicles. But the number of the service center is not increasing rapidly. Most of the owners told us that the quality of the Tesla service centers is deteriorating each day. They don't respond to email and do not receive phone calls. Even if you make an appointment through the Tesla mobile app, your repair could take weeks. Moreover, if they don't fix your car on time, there is no way to escalate the situation to higher management. 
Frequently you will see on twitter that Tesla owners complaining to Elon Musk about their service experience. 
While your Tesla is in the service center, Tesla may or may not give you a loaner vehicle depending on your location. So, at that time, you would be without any car.
Moreover, if you live in a country where there is no service center, what would happen? It's complicated.
Phantom battery drain: 
If you park your Tesla overnight, it will slowly discharge its battery. Tesla owners call it the Phantom battery drain. According to the Tesla owners manual, every Tesla battery discharges at a 1% rate per day. So, if you intend to park your vehicle at an airport, you need to keep this in mind. For example, if you leave your car for 2 months, the battery will discharge 60%. 
If your battery discharges to 0%, it could damage onboard electronics. Moreover, the lithium-ion battery recharges the onboard 12V battery. If the 12V battery becomes dead, you won't be able to unlock your Tesla. In that case, you have to tow your vehicle to the nearest electric charging station.
Less range on highway driving:
On a typical gasoline vehicle, highway driving has better mileage than city driving. For example, in a Toyota Camry, you can go up to 500 miles on the highway on a full tank. However, in the city, you can drive a maximum of 300 miles. On Tesla, the opposite is true. Tesla cars have better city mileage than on the highway. So, on a road trip, your Tesla would not go it's rated range.
You can't tow with a Tesla:
Theoretically, you can tow with your Tesla. However, Towing would decimate the range of your vehicle. According to owners — though it depends on how much you are pulling — towing could decrease your Tesla's range up to 50%. So, a 400 miles Tesla would become 200 miles Tesla. It is frustrating. Because on a long road trip, it means you need to recharge your vehicle too often, increasing your travel time significantly.
Lackluster interior:
Tesla vehicles are expensive. But the interior is not luxurious similar to other cars such as BMW or Mercedes in the same price range. In short, the interior is plain and simple.
Tire wears out fast:
Tesla's are heavy vehicles. It also has a very high torque compared to a gasoline vehicle. It is why tires in Tesla wear out fast. So, if you own Tesla, you need to change tires more frequently, increasing your ownership cost.
OTA update could bring new bugs:
Previously we said that the OTA update is an excellent feature because Tesla can introduce new features and improve the vehicle even after vehicle delivery. However, according to Tesla owners, sometimes the OTA update introduces new bugs, and Tesla takes a long time to fix these bugs. Moreover, it's tough for owners to report these bugs.
Cold weather range degradation:
If you live in a colder climate, your Tesla will lose range in cold months.
Not suitable if you live in an apartment:
If you have a house, you can recharge your Tesla at your home. However, if you live in an apartment, it could be challenging for you to recharge your electric car if there is no supercharger or destination charger in your area. Mostly it is problematic for those who live downtown. Moreover, some Tesla owners said their HOA did not agree to put any charger in the community garage.
Battery degradation:
Tesla's battery degrades over time. Tesla owners said that over a few years, Tesla's lost almost 10% range. In a colder climate, this degradation could be worse.
Poor build quality:
Tesla is famous for its technology but not for its build quality. Panel gaps, rattles, and paint issues are a common problem. For example, a Tesla owner found a home depot-grade fake wood in their car. Here's the article – https://www.thedrive.com/tech/36274/tesla-model-y-owners-find-cooling-system-cobbled-together-with-home-depot-grade-fake-wood.
Sources:
These are the user manual of the Tesla vehicles. You can learn more about Tesla by reading these.
Conclusion:
Should you buy a Tesla? It all depends on your driving needs, personality, lifestyle, ability to charge conveniently, and access to service centers. However, we suggest that if you can find any family members, friends, or colleagues who already own a Tesla, talk to them, and then make the final purchasing decision.
---