Samsung is the second-largest smartphone manufacturer in the world. 
However, Samsung and Apple's business approaches are entirely different. 
Even though Apple makes only a handful of phone models yearly, they make most of the profit in the phone market. In contrast, Samsung makes numerous models and targets every type of consumer, but its profit margin is low.
They also have numerous phone series such as S, M, A, and F. While S is the high-end smartphone such as S20 and S22. M is a budget smartphone such as the M13, M23, etc.
The Galaxy A series falls between the premium S and budget M categories. These Galaxy A series phones have high specifications but cost lower than the Galaxy S series.
The Galaxy A73 5G is the latest edition of the Samsung phone lineup.
Learning about the pros and cons is the perfect way to make a decision on whether you should purchase the Galaxy A73. If you know all these facts, you don't have to rely on others' opinions; instead, you can make your own informed buying decision.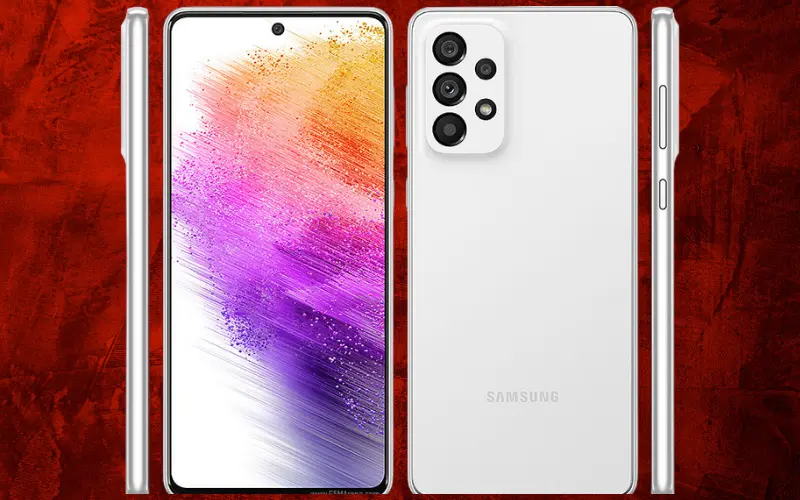 Pros of Samsung Galaxy A73 5G:
These are the benefits for which you should buy the Galaxy A73. 
Expandable Storage:
Samsung Galaxy A73 has 128 GB to 256 GB internal storage options. Moreover, the A73 has an expandable memory slot, where you can insert a microSD card of up to 1TB. It is convenient because you don't have to shell out hundreds of dollars for memory upgrades like Apple's iPhone. 
Here's an example. The 128 GB iPhone 13 Pro costs $999, and the next storage version, 256 GB, costs $1099. So, Apple is charging you $100 for 128GB of memory. Now check this 512GB Samsung microSD card on Amazon. This is 80% cheaper than Apple's storage expansion asking price. We hope you do realize the benefit of expandable storage space.
A73 5G Super AMOLED Display:
The Galaxy A73 5G has a 6.7-inch 120 Hz Super AMOLED 800 nits screen, and its resolution is 1080 x 2408 pixels (394 PPI density). We know that the AMOLED display is superior to the LCD screen and consumes less energy. The screen resolution of this phone is so high that you won't be able to distinguish individual pixels. 
Moreover, the A73 5G comes with Corning Gorilla Glass 5 protection. Therefore this phone is scratch-resistant, and the screen will not crack if you drop your phone.
However, AMOLED displays have two types of problems.
First, an AMOLED display loses its sharpness, crispiness, and vividness after a few years. The screen would look dull compared to a newly purchased A73 phone's screen.
Second, the AMOLED display has a screen burn issue. It arises when someone uses a single app extensively — such as Google Maps — for a long time. This extended usage would leave a ghost watermark of the used app imprinted on the screen permanently. 
Good Cameras:
The Galaxy A73 has four back cameras with 108 MP optical image stabilization primary camera; and one 32 MP selfie camera. 
These cameras natively record 4K. It's better than many competitors' cameras, which record only HD video and upscales those to 4K using the software. However, The Galaxy A73 5G natively records 4K with its 4K camera sensor.
The performance of these cameras is superb and can be compared with the Galaxy S series.
Related: Samsung's Always On Display Feature
Galaxy A73 has OTG Support:
OTG stands for on-the-go. As A73 supports OTG, we can buy various USB-C devices and add useful functionality to our Galaxy A73. Here are a few examples.
USB C keyboard:
You can purchase a USB-C keyboard from Amazon and use it to type faster on your phone.
USB C game controller:
If you use a USB C game controller with your A73 5G, it will tremendously improve your gameplay. For example, you can purchase this game controller from Amazon.
USB C microSD card reader:
You can buy a USB C MicroSD card reader and an SD card from Amazon and expand your phone memory on the go. OTG is mind-blowing.
USB C Flash Drive:
If you don't want to buy a microSD card reader and SD card, you can purchase a USB C Flash Drive instead, similar to this one. Using a flash drive, you can transfer various files, photos, and videos between your Galaxy A73 phone and laptop.
USB C HUB:
A portable USB C HUB will allow you to connect a monitor, keyboard, mouse, speaker, hard disk, TV, SD card, projector, etc., with your Galaxy A73. Simply put, this type of HUB will transform your phone into a computer.
USB C to USB adapter:
This type of adapter has various uses. Here is one example. If you have a DSLR camera and want to back up pictures from your DSLR camera to your phone, you can do it with a USB C to USB adapter. 
Ethernet Cable Connection:
You can use a USB C to Ethernet adapter, for example, like this one, to connect the Galaxy A73 to an ethernet network. This way, you can get the internet on your A73 phone without WiFi.
Fast Charging:
The Galaxy A73 5G has 25W fast charging technology. As a result, charging this phone does not take too much time. 
However, fast charging degrades the battery quickly compared to slow charging. So, we suggest that if you purchase this phone, slow charge it overnight. It will improve your phone's battery life. 
Has a Fingerprint Sensor:
The Galaxy A73 has an under-display optical fingerprint sensor. It's useful compared to a side-mounted sensor because it doesn't prevent the phone's ergonomic use.
Large Battery:
The Galaxy A73 has a massive 5000 mAh non-removable battery. One can use this phone for two days without any recharge.
Waterproof:
The Galaxy A73 5G is waterproof and dust resistant. It has an IP67 rating; therefore, this phone can stay 1 meter underwater for 30 minutes. 
Good Processor:
The Galaxy A73 5G uses Qualcomm's octa-core Snapdragon SM7325 5G 5-nanometer processor with Adreno 642L GPU. Qualcomm's processor has a better performance compared to Samsung's Exynos processor. 
Samsung's Exynos processors have two main problems. It gets hot and consumes too much battery power. You will notice that Samsung only uses Qualcomm processors on high-end phones and uses Exynos and MediaTek processors on their budget phones. 
Cons of Samsung Galaxy A73 5G:
These are the drawbacks of the Galaxy A73 5G, which you should consider before purchasing this phone.
No 3.5mm Headphone Jack:
The Galaxy A73 5G doesn't have a 3.5mm headphone jack. Moreover, Samsung also doesn't ship headphones with the phone's package. Even a few years ago, Samsung mocked Apple for removing the headphone jack, but now they are copying Apple.
As the Galaxy A73 doesn't have wireless charging, listening to music and recharging the phone is impossible unless we use Bluetooth headphones. The price of this phone is already $500. Thus the headphones cost extra. 
Nowadays, most Samsung phones come without it. The 3.5mm jack is very helpful because you can charge and listen to music at the same time. However, Samsung decided to remove the 3.5mm jack from the Galaxy A73 5G.
No MHL Support:
Most Samsung phones have MHL support. Unfortunately, the Galaxy A73 5G doesn't have MHL support.
MHL is a fantastic piece of technology that many do not know. MHL stands for Mobile High Definition Link. Using the MHL-HDMI cable, you can mirror your phone screen to any projector, TV, or monitor. This feature helps you to give a presentation from the phone or watch a movie on the projector.
On Amazon, if you search "MHL to HDMI," you will get thousands of results. This cable will help you transfer your phone's display signal to an HDMI port. Before you buy your MHL to HDMI cable, please make sure which USB your phone supports, whether it is a micro USB, mini USB, or USB type C.
Buy a USB Type C MHL to HDMI cable for your Galaxy A73 5G, for example, similar to this one. Connect one end of the MHL cable to your phone, and connect the other HDMI end to a TV or projector. After configuring your TV or projector to HDMI input, your phone screen will show up on your TV or projector. Now, enjoy movies and gameplay on your TV or projector. Moreover, you can give a presentation on office settings with your Galaxy A73 without laptops or computers. Isn't it great?
However, as the Galaxy A73 5G doesn't support MHL, you can't enjoy these benefits.
Non-Removable Battery:
The Galaxy A73 5 G's battery is non-removable. It is a disadvantage because the removable battery is useful in many scenarios. 
An old phone loses its battery capacity. So, it charges slowly but discharges rapidly, making the phone unusable for practical purposes. 
Moreover, if Samsung OS detects the battery has become weak, it will slow down the processor to protect the battery from further deterioration. The slow processor will make a Samsung phone laggy. It is why an old Samsung phone lags and hangs. 
Replacing the old battery with a new one will solve all these problems. But, the A73's battery is non-removable. So, when your Galaxy A73 5G phone gets old and becomes slow, you have to replace the phone itself.
Samsung Phones Slows Down:
One of the most significant drawbacks of Samsung phones is that their phone becomes slow over time.
Samsung inherently is a hardware company, not a software company. They develop software because they have to. On the contrary, Apple is inherently a software company. Therefore, Samsung's software isn't that great.
Even though Samsung develops its hardware, the Android OS comes from Google. Samsung only modifies it for their phone. Therefore, the optimization isn't that great.
Moreover, Android is inherently a processor and memory-intensive operating system (OS). But as the Galaxy A73 is a relatively weak phone, it struggles to run the Android OS.
When new, the phone would run blazing fast. However, as the phone ages, it will become increasingly slow. After 12 to 18 months, this Galaxy A73 5G would become painfully slow. 
No eSIM support:
The Galaxy A73 5G does not have eSIM support.
Samsung Phone Becomes Hot:
Samsung phones overheat quickly. For the last ten years, Samsung has failed to fix the phone overheating issue. Samsung acts like this issue does not exist.
If you play any video game, run YouTube or Netflix, or run an app that uses a lot of processing power — such as a video editor — the phone would become so hot that it would be impossible to hold it in hand. 
When the phone overheats, your phone will become slow and laggy. Furthermore, your Galaxy A73 5G can also overheat while you record a 4K video with the phone cameras.
No Wireless Charging:
Galaxy A73 5G does not support wireless charging. 
Even a mid-range phone from Xiaomi has wireless charging support, but this phone does not have this feature. 
As the Galaxy A73 doesn't have a 3.5mm headphone jack, charging the phone and listening to audio simultaneously isn't possible due to the lack of wireless charging.
No Extended Software Update:
Apple provides regular software updates to all of its iPhones. They never abandon their phones. But Samsung stops giving any software updates after only 18 months of release. But this is only true for high-end Samsung phones.
As the Galaxy A73 5G is a mid-range phone, Samsung will never release an OS update after 12 months.
5G Battery Consumption:
Samsung claims that even on 5G, A32 will last for 24 hours. Unfortunately, we found that A32 does not last the whole day on 5G. It's because 5G consumes a lot of power.
On the iPhone, iOS automatically switches between 5G and 4G depending on data usage. For example, if we are browsing a website, the iPhone will use a 4G network to save battery power. But when we initiate a large download, the iPhone will switch to 5G, download the file, and switch back to 4G. However, iOS will show the 5G logo all this time, even though we are not on the 5G network. It's a brilliant solution.
However, Samsung A73 5G does not have this type of intelligent 5G implementation. It's similar to GPS. 
On the iPhone, we don't need to turn off GPS. Depending on apps, iOS will turn off and turn on GPS. In contrast, Samsung A73 5G does not have this feature. 
RAM:
The Samsung Galaxy A73 5G would ship with 6GB or 8GB RAM. We consider it a disadvantage because 6GB RAM is insufficient for the Android 12 OS with One UI 4.1 and for all the Samsung pre-installed bloatware. 
While new, your phone will open apps blazing fast; however, this RAM will choke to run apps after a few years.
Android is inherently a resource-intensive operating system. The RAM Samsung is giving in this phone is actually not for users. It's primarily for the heavy Android OS because, without the 6GB RAM, the A73 5G will struggle to run apps smoothly.
However, as the RAM ages, this phone will slow down and fail to run various apps without crashing. 
No Charger, No Headphone:
Samsung doesn't ship a charger or headphones with this Galaxy A73 5G in the box. You have to pay extra to purchase these from other retail shops. 
However, some users have reported that depending on the region, sometimes Samsung provides a charger with the A73. Therefore, please verify with your seller whether a charger comes in the box. If not, please order one.
Conclusion:
Please don't make your phone purchase decision based on YouTube reviews. Those reviewers don't use their phones for a long time. 
The pros and cons that we described here are from our experience. It's your money, your decision. 
From our experience, even though the A73 5G has some drawbacks, it's a good phone you can purchase.