This article is an in-depth comparison between Bollinger B2 Vs. Tesla CyberTruck. According to Bollinger, its B2 truck is the world's most capable pickup truck, or is it? 
I think you would agree that a $125,000 price tag for an electric pickup truck is quite high. What if I tell you this truck has mediocre specs compared to a $39,900 Tesla CyberTruck, comes with zero technology and no airbags, would you buy it?
Before we start, you can learn everything about the Tesla CyberTruck here.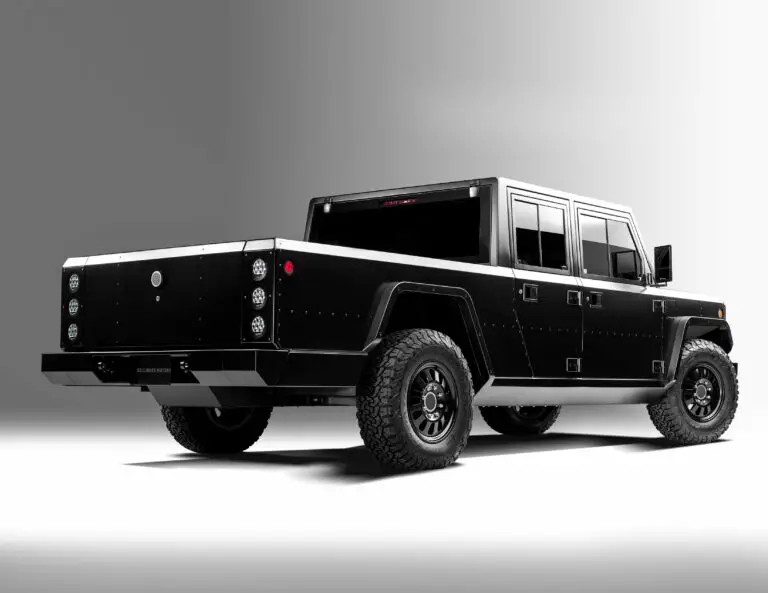 Bollinger B2 is one of the most expensive electric pickup trucks in the world. It costs $125,000. It's like, you are buying a feature phone for the price of an iPhone. This truck can't even beat entry-level Tesla CyberTruck in specs, which starts at $39,900.
Bollinger B2 Vs. Tesla CyberTruck Specs Comparison:
In the following table, we compared the Bollinger B2 with 2 of Tesla's entry-level CyberTruck variants.
| | | | |
| --- | --- | --- | --- |
| | Bollinger B2 | Single Motor RWD CyberTruck | Dual Motor AWD CyberTruck |
| Price | $125,000 | $39,900 | $49,900 |
| Range | 200 miles. | 250 miles. | 300 miles. |
| 0-60 mph | 4.5 seconds. | 6.5 seconds. | 4.5 seconds. |
| Towing Capacity | 7,500 lbs. | 7,500 lbs. | 10,000 lbs. |
| Payload Capacity | 5,000 lbs. | 3,500 lbs. | 3,500 lbs. |
| Ground Clearance | 15 inches. | 16.1 inches | 16.1 inches |
| Seating | 4 | 6 | 6 |
| Truck Bed | 5'9" | 6.5" | 6.5" |
| 110V/220V | 10, 110V outlet. | Both 110V and 220V outlets. | Both 110V and 220V outlets. |
| Air compressor | No. | Yes. | Yes. |
| Width | 77.2 inches. | 79.8 inches. | 79.8 inches. |
| Length | 207.5 inches. | 231.7 inches. | 231.7 inches. |
| Approach Angle | 52 degrees. | 35 degrees. | 35 degrees. |
| Departure Angle | 28 degrees. | 28 degrees. | 28 degrees. |
| Top Speed | 100 mph | 110 mph. | 120 mph. |
| Drivetrain | All Wheel Drive. | Rear Wheel Drive. | All Wheel Drive. |
| Storage | Total: Unkown, but has an impressive amount of space. Frunk: 14 cubic ft.  | 100 cubic ft. | 100 cubic ft. |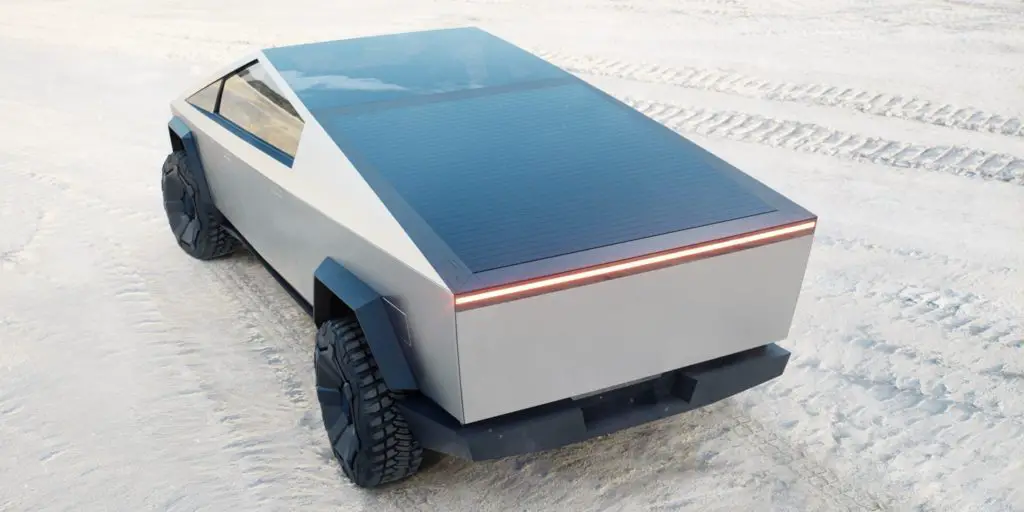 The impressive feature of B2 is it's 5,000 lbs carrying capacity, 52-degree approach angle, and 10, 110V outlets. 
If you are wondering what approach and departure angle is, please watch the following video –
Bollinger B2 Vs. CyberTruck Design:
There's no doubt CyberTruck has the most polarizing design. Some people absolutely hate it. There is another group that loves this futuristic, blade runner, origami-style design.
However, there's no doubt, B2's design is hideous and ugly. CyberTruck is much better looking than this Bollinger B2.
Unique Features of B2 that Cybertruck does not have:
B2 has the following unique features.
Flip Down Rear Cabin Wall.
Flip-Up Rear Window.
Easily Removable Doors.
Easily Removable Roof Panels.
Removable Windshield.
Removable Rear Seats.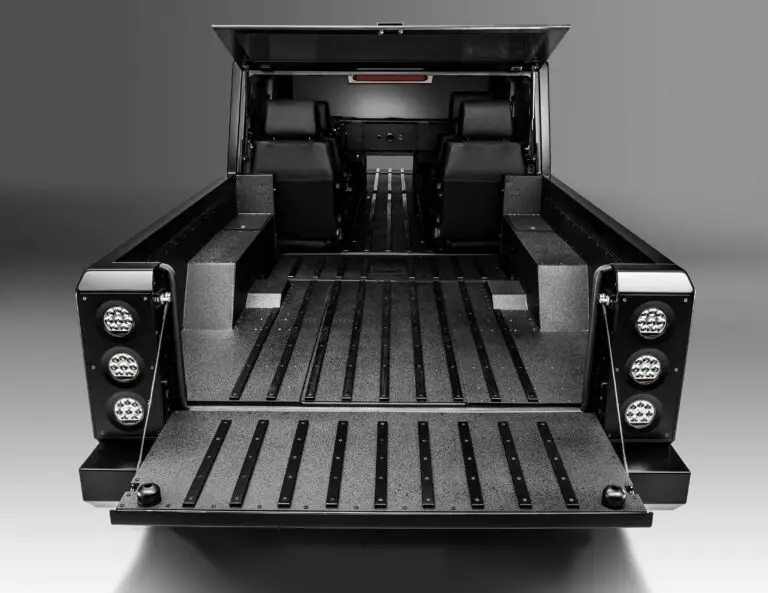 Bollinger B2 Vs. Tesla CyberTruck Technology:
Every Tesla truck comes with autopilot, which enables your vehicle to steer, accelerate, and brake automatically for other vehicles and pedestrians within its lane. It also has the world's most advanced infotainment system featuring Netflix, Hulu, Disney+, YouTube, Spotify, Arcade Games, Web browser, Caraoke (Karaoke for Cars), etc.
This truck also comes with a built-in 360-degree dash camera, sentry mode, dog mode, camping mode, and option to add full self-driving. Tesla further has a mobile app. This app enables you to keyless driving, check the vehicle's range status, view the vehicle's GPS location, and many other things.
On the other hand, Bollinger B2 has none of these. It only comes with Bluetooth connectivity, and that's it.
Bollinger B2 Vs. CyberTruck Body Materials:
CyberTruck's body is made out of ultra-hard 30x cold-rolled stainless steel. It helps to eliminate dents, damage, and long-term corrosion with a smooth monochrome exoskeleton that puts the shell on the outside of the car and provides maximum protection.
Its body is strong enough to take a sledgehammer and a 9mm bullet. Tesla also using polymer-layered composite glass on this vehicle. This glass is shatterproof. Look at the video demo below.
Bollinger B2 is made out of typical aluminum and glass. So, this truck is not as strong as Tesla CyberTruck. On off-road driving, CyberTruck can take more abuse than B2.
Interior:
CyberTruck has 6 seating capacity, whereas Bollinger B2 has only 4. Tesla also has a 17" touch screen display and marble looking dashboard.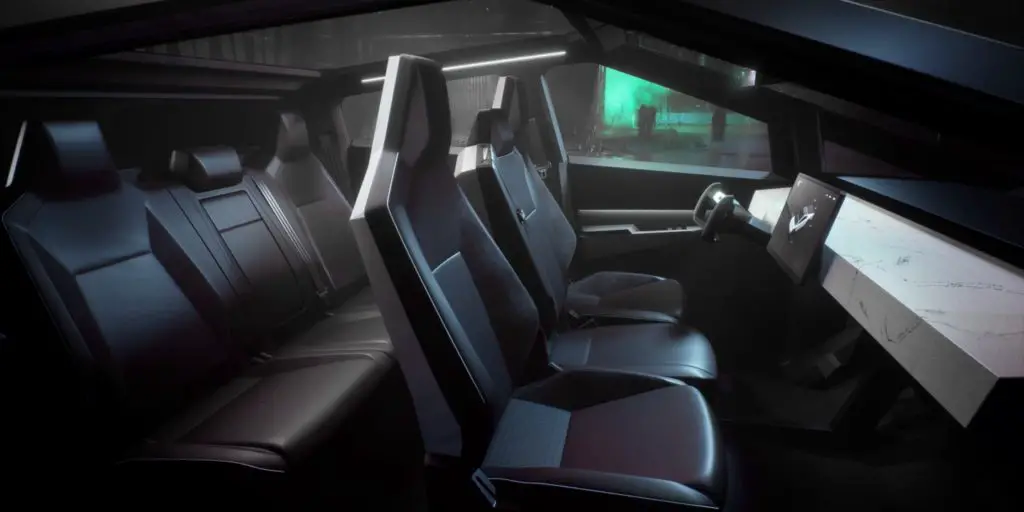 B2's interior is very basic. No digital display, and all manual buttons.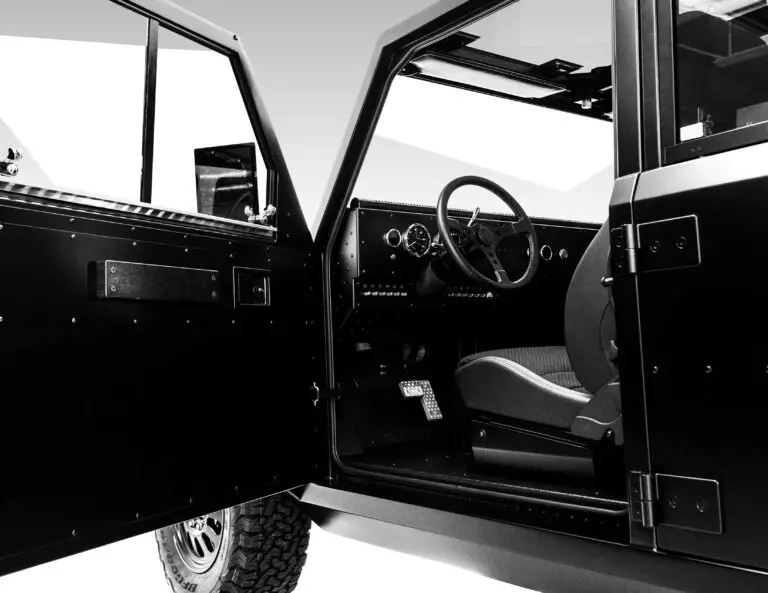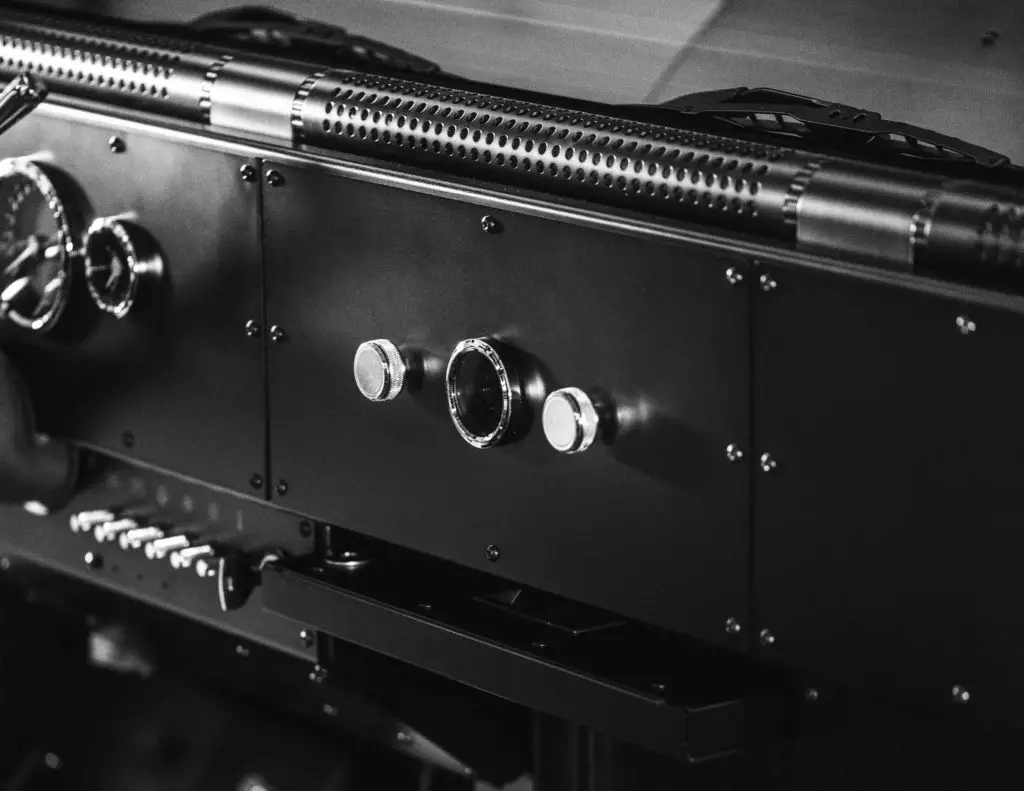 Bollinger B2 Vs. CyberTruck Safety:
Tesla makes one of the safest vehicles in the world. Every vehicle, including Model S, Model X, and Model 3, has top safety ratings from the National Highway Traffic Safety Administration (NHTSA), and other government organizations around the world.
However, Bollinger B2 production vehicle has no airbags. It's not a joke. It's real! Bollinger is only relying on seatbelts to provide safety during an accident. We are not sure how that works for the front and side collisions. 
Charging Stations and Cost:
Tesla has a worldwide SuperCharging network.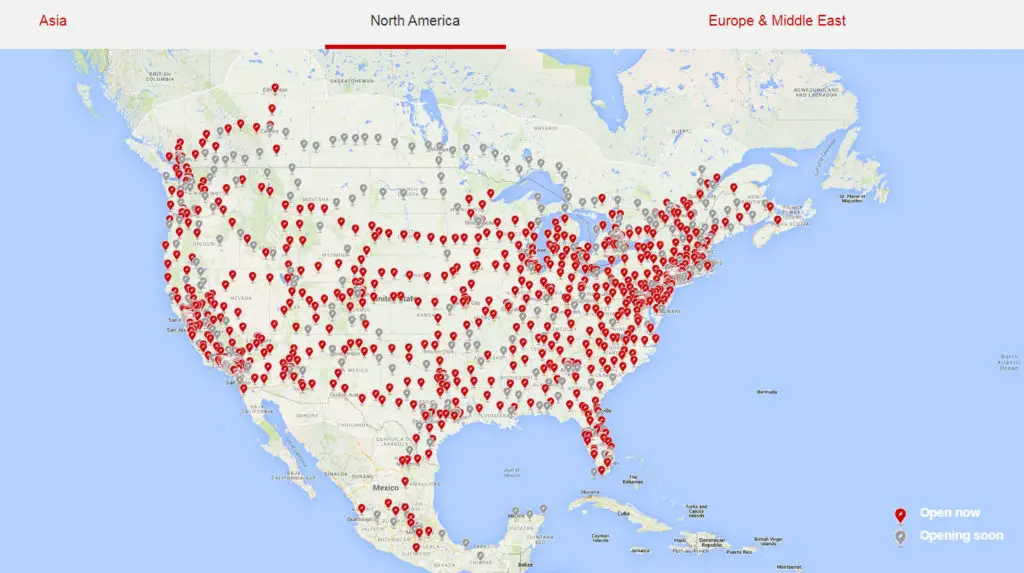 As Bollinger owner, you can charge your B2 truck at Electrify America. But in this article where we compared CyberTruck vs. Rivian R1T, discussed the problems of Electrify America charging stations.
First of all, this truck has 200 miles of range. Secondly, problems with charging stations. These two factors make this truck unusable for road trips.
Let's figure out the efficacity of Bollinger B2 with a comparable Tesla vehicle with equivalent battery:
| | | |
| --- | --- | --- |
| | Bollinger B2 | Model X |
| Curb Weight | 5,000 lbs. | 5,421 lbs. |
| Battery Size | 120 kWh | 100 kWh |
| Range | 200 miles | 328 miles |
| Efficiency | 1.67 miles/kWh | 3.28 miles/kWh |
So, B2 would cost you twice to go the same distance than in a Tesla.
Tesla battery and motors are rated for 1 million miles. However, Bollinger has not provided any ratings for its battery and motors.
Bollinger B2 Vs. CyberTruck Features:
Every CyberTruck comes with a built-in ramp, automatic metal tonneau cover, truck bed light, L track rails, air compressor, options to add solar panel tonneau cover, and autopilot.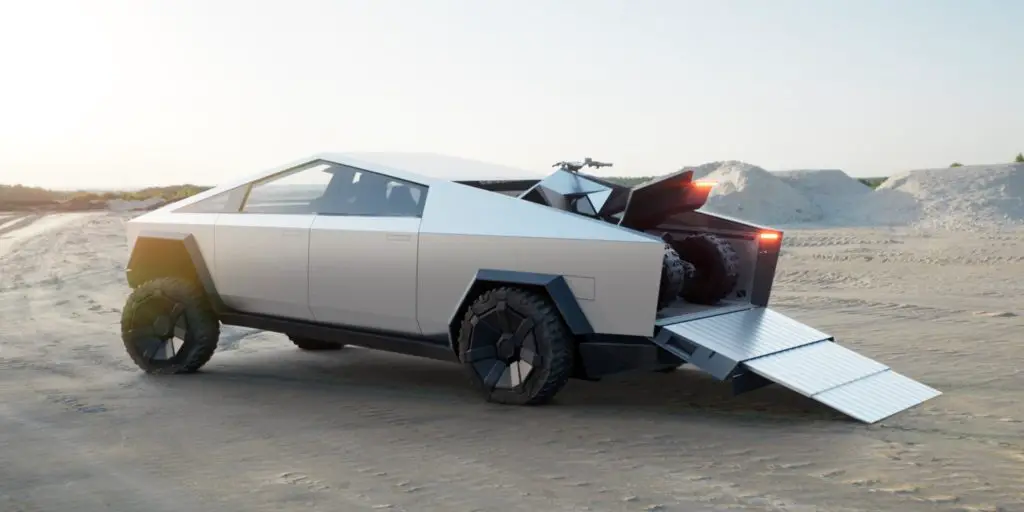 Bollinger B2 has none of these features. 
Conclusion:
Needless to say, Bollinger does not provide us with any compelling reason to purchase its B2 over Rivian R1T or CyberTruck.
We want electric vehicles. But the price has to be reasonable, and the technology has to be competitive. Bollinger provides us none of these. This Bollinger B2 Vs. Tesla CyberTruck comparison shows that Bollinger B2 needs a lot of improvement. Otherwise, it won't be able to compete with either CyberTruck or R1T.
References: