There was a time when every Airbnb provided breakfasts and hot food. 
However, these are rare nowadays.
This article discusses breakfast and food on Airbnb and things you should know to avoid unnecessary cleaning fees from Airbnb hosts.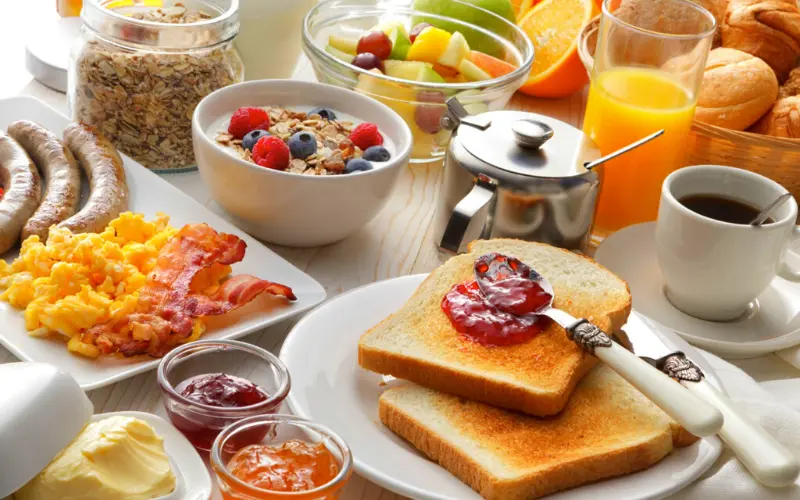 Does Airbnb Provide Breakfast?
Even though Airbnb's whole meaning is Air bed & breakfast, no Airbnb provides breakfast. In contrast, even a budget hotel offers complimentary breakfast every morning.
However, there are several reasons why Airbnb hosts don't provide breakfast, as explained below.
When Airbnb first started its business, it was a niche market operated by homeowners to earn some extra money. At that time, most hosts would rent a spare room or an apartment in their house. At that time, providing morning breakfast was the norm.
However, as Airbnb grew its business, more and more commercially intent people started doing Airbnb. 
Nowadays, many people buy houses specifically to rent their places on Airbnb. It's a massive business.
Unlike hotels, where all the rooms are situated in the same building, Airbnb is a typical house in separate locations. As a result, it's very tough for a host to provide breakfast to multiple locations each morning.
In some areas, the host lives far away from their Airbnb rental. As a result, they can't provide breakfast.
Moreover, Airbnb is nowadays a cutthroat business. The hosts are trying to maximize their profit by any means possible. As a result, they don't provide breakfast to cut costs and maximize their profit.
Providing breakfasts for all types of Airbnb guests is also very challenging.
For example, European customers typically don't like American bread. Asian like to eat noodles for their breakfast. Thus, there's no knowing what the guest would like to eat in the morning. 
Each bad experience in the Airbnb rental is ground for a bad review. If the host provides breakfast the guest doesn't like, it will be reflected in the review. 
Moreover, if a host wants to provide breakfast, they also have to keep in mind the dietary condition of the guest. Some have a peanut allergy; some guests are lactose intolerant; some are vegan etc. 
As an Airbnb host, providing breakfast is not easy and may create an unhappy situation for the guest.
Thus, nowadays, Airbnb hosts don't provide breakfast. It not only saves them some money but also helps them to avoid many potential issues and bad reviews.
However, some Airbnb hosts provide rudimentary snacks such as granola bars, tea, coffee, eggs, soft drinks, chips, juice, yogurt, bottled water, etc. But these breakfast services on Airbnb aren't typical. 
Whether Airbnb provides breakfast or not will be described in the listing description. If the listing doesn't mention breakfast, it doesn't offer it.
Related: What would you do if you find the AC, Heater, or Hot water not working in your Airbnb? This article discusses everything you need to know to get a refund in these scenarios.
Do Airbnb Provide Food?
Most hotels typically have a restaurant from which a guest can order food. In contrast, no Airbnb provides food service. 
However, some significant differences between hotels and Airbnb makes Airbnb way better than hotels.
A hotel room typically comes only with a small fridge, coffee maker, and microwave. There's no kitchen, gas stove, blender, juicer, dishwasher, etc. 
In contrast, every Airbnb comes with a fully furnished kitchen with kitchenware. As most Airbnb is an apartment or a house, there's always a kitchen that isn't available at a hotel. 
Thus, even though Airbnb doesn't provide food, it gives all the amenities to make a hot meal at any time. 
Related: What to do if your Airbnb guest steals something from your rental property? This article discusses everything you need to know about a thieving Airbnb guest.
Things To Know About Food Preparation At An Airbnb
Even though most Airbnb provides kitchens, it also has some fussy rules about cleaning.
A hotel doesn't charge a cleaning fee. All the charges are included in the hotel room cost. They also have dedicated room cleaning crews who clean every room after every guest leaves.
In contrast, every Airbnb charges a cleaning fee on top of the nightly rental cost. But it doesn't end there.
Most Airbnb has extensive pre-checkout chores such as removing the bed sheet, taking out the garbage, sweeping the floor, cleaning the dishes, etc.
Thus, on Airbnb, you are paying the cleaning fees, and the hosts also make you clean the rental before you leave. 
Therefore, if you use the kitchen in an Airbnb, you must clean the dishes and every appliance before you leave your rental, which is not ideal for most people.
People stay at an Airbnb while vacationing or on a business trip. They don't have time to do these extra things. If a guest has to clean, why do they also have to pay cleaning fees? It doesn't make any sense. 
However, if you leave the kitchen in a mess, many hosts will take advantage of the situation and charge you extra cleaning fees through Airbnb.
Related: There are 11 Reasons why staying at an Airbnb is better than Hotels. This article discusses those 11 Reasons in depth.
Should Airbnb Provide Breakfast?
Almost every hotel provides continental breakfast, even the cheapest one. However, on Airbnb, it's up to the guest whether they should give breakfast or not.
In a typical sense, an Airbnb host should provide breakfast or at least a food basket that contains bagels, orange juice, cream cheese, coffee, eggs, and bread. 
Airbnb nowadays is more expensive than hotels. Moreover, there are various charges such as Airbnb service charges, cleaning fees, and taxes. All these things make Airbnb more costly than hotels.
When Airbnb guests pay more for a service than hotels, they should get more for their money. Thus, An Airbnb host should provide breakfast.
While booking an Airbnb, you can read the listing description carefully. The host will offer it if it says it provides breakfast or a food basket. Otherwise, no breakfast will be provided at the Airbnb.
Some Airbnb, however, does provide a juicer, coffee maker, blender, microwave, fridge, oven, and dishwasher. Therefore, even if the Airbnb host doesn't offer breakfast, making a hot meal would not be challenging.
Related: Can Airbnb have cameras? What if you find hidden cameras inside your Airbnb? Is it legal? What should you do in these scenarios? This article discusses everything you need to know about Cameras on Airbnb.
Bottom Line
Nowadays, no Airbnb provides breakfast; however, they do provide a fully furnished kitchen to prepare hot meals.
However, you must clean the kitchen before you leave your Airbnb. Otherwise, the host may charge you more in cleaning fees through Airbnb support.